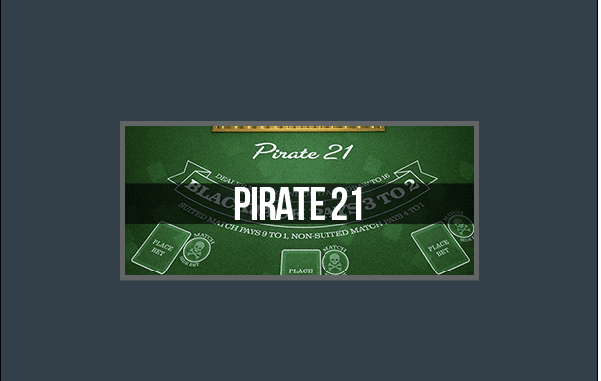 Pirate 21 Blackjack – The goal is clear, you have to beat the dealer and for that you need 21 points or at least more than the dealer. You can even place a match side bet here. You can find out how it works and what it is in my detailed experience report.
Play Pirate 21 Blackjack for free here
At first glance it seems that playing Pirate 21 Blackjack online is a completely normal version of Blackjack, with which it is also possible to play up to three hands at the same time. But appearances are deceptive here, because this variant of Blackjack has some special features. It is precisely these that make it necessary for you to familiarize yourself with the rules, the course of the game and, above all, the possible uses. When you play Pirate 21 Blackjack for free, you can familiarize yourself with everything in peace and, above all, without your own financial risk.
Where to Play
When you play the free game, you receive virtual money for this, which means that you cannot collect any real winnings. But you don't run the risk of losing your hard-earned money if you make mistakes. The main thing is to understand how the game is played, but also to deal with and understand the side bets. At the same time, you can find out for yourself whether these are productive or not.
I can assure you that when you play Pirate 21 Blackjack for free, there is real excitement waiting for you. Not only are you playing three hands against the dealer at the same time, but the side bet also does what you need to. You will play online at Pirate 21 Blackjack very quickly, because this averted form has its own charm and fun to offer. Of course, you can switch to real money mode at any time, but first you should be sure that you have understood everything. In my Pirate 21 Blackjack test I was able to make the experience that the provider designed everything intuitively so that everyone can find their way around here quickly.
The rules of the game of Pirate 21 Blackjack
Pirate 21 Blackjack is played with a Spanish deck of cards. This means that the 10s are not included in these decks of cards. This is one of the great features of this variant of blackjack, which does not support card counting and often doomed even sophisticated blackjack strategies to failure.
You have the option of playing up to three hands at the same time, for which the corresponding fields are available on the gaming table. Your stakes do not have to be the same in every field, but can vary. Depending on your willingness to take risks, you can risk between € 1 and € 100 per hand. Once you have placed your bets, click on "Deal" so that the cards are dealt. One of the dealer's cards is basically face down, making it difficult to decide how to attack.
Details
| | |
| --- | --- |
| RTP | 99,24% |
| Blackjack pays | 3/2 |
| Decks | 6 |
| Multi-Hand | Yes |
| Insurance | Yes |
| Surrender | No |
| Split | Yes |
| Re-Split | No |
| Hit Split Aces | Yes |
| Double | Yes |
| Double After Split | Yes |
| Dealer Peek | No |
| Dealer Hits Soft 17 | Yes |
| Side bets | Yes |
In addition to the normal game, you can also place a match side bet. The maximum bet in this case is € 25 per hand. To win this bet, only one of your cards needs to match the dealer's. If the trump suit is different, then there is a payout of 4: 1, as soon as this is identical, the payout is 9: 1.
Beat the dealer with a higher score or with a blackjack, or make an extra profit with the side bet. You see, there are many chances of winning here, even if it is a disadvantage that there are no 10s here. But thanks to some additional rules, this is compensated for, because these are designed in favor of the players.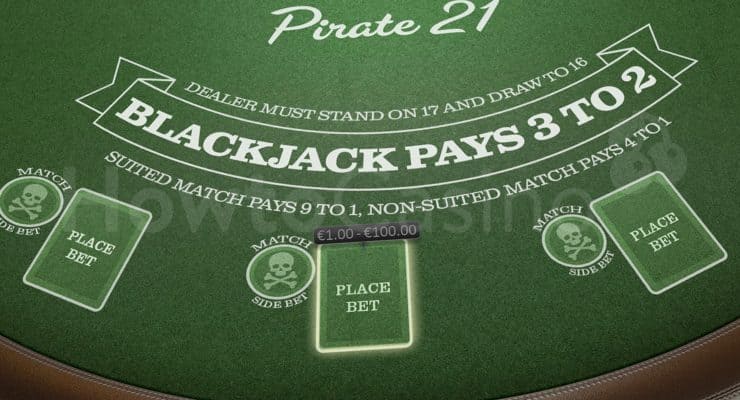 Play Pirate 21 Blackjack for real money – multiple chances of winning
You can see that Pirate 21 Blackjack is a slightly modified form of the well-known Blackjack. The popular card game does not lose its charm and is full of excitement. I can only recommend you to try this variant of blackjack. You can play blackjack mobile or enjoy the fun on the PC. As soon as you have gained enough experience in the free version, you can switch to real money mode. It is important that you know your limits and approach the game with an appropriate strategy. This variant is offered in many blackjack online casinos and after comparing the providers you should basically use the online casinos, where you can benefit from a lucrative Pirate 21 Blackjack bonus.