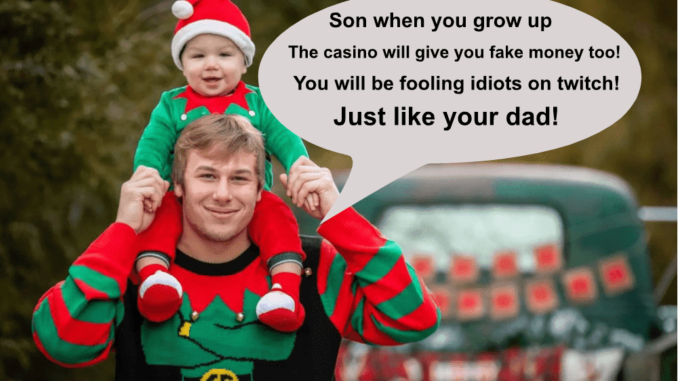 In addition to our first place in the Scammers rating, Roshtein, Xposed has long since made a name for itself in the streams scene. He started out as a schoolboy. After a short break, Cody Burnett, as Xposed is actually called, returned to the casino game. Today he is by far one of the most successful Fake Money Actors entrepreneurs in the scene and earns tens of thousands of dollars a month.
Xposed Casino Real Name and other info
The real name of Xposed Cody Burnet. In private, Cody has remained down to earth. He and his girlfriend, whom he has had since his school days, lead a peaceful life as a group of four – with a baby and a dog. The young streamer was offered in Canada in 1996 and still lives in Ontario to this day. His fans are spread all over the world. On Twitch alone, he is followed by almost 400,000 fans who love his streams.
No wonder, because hardly anyone is as euphoric and authentic as Xposed. Wagers of $50 are considered normal for him (Of course, it's okay if you receive money from the casino itself!). Every now and then he varies this, but all in all he is one of the big players in the streaming scene.
The casino streamer Xposed
Streamer name
Xposed
Real Name
Cody Burnett
Birth
Ontario, Canada
Date of birth
June 7, 1996
Follower
320.000 + (Twitch)
50.000 + (Twitter)
130.000 + (Youtube)
30.000 + (Instagram)
XPOSED favorite casino
Roobet Casino (Apparently it pays him well)
Particularities
Extremely euphoric, experienced CoD player, has its own streaming team
Highest profit
500.438 $ in Crazy Time
Highest multiplier
3764X on Gorilla Gold Megaways
When and where does Xposed stream?
Streaming is also offered primarily on Twitch by this star of the scene. He uses social media such as YouTube or Twitter to present Fake money winnings and to keep "fans" up to date. During the week, Cody usually takes time for new streams from 4 p.m. He then plays until late in the evening. Fridays to Sundays, his "job" starts earlier, usually at 2 pm.
At least that's what the schedule on Twitch says. It has to be said that the provider uses every free minute to provide its fans with new highlights. Nevertheless, his own small family is of course not neglected. That comes first for him.
Xposed YouTube videos that can be viewed around the clock. The Canadian has up to 6 hours of streaming time every day. This also explains why he's probably already amassed hundreds of thousands if not millions of dollars in fortune – and that his income on Twitch continues to grow almost daily.
What makes Cody Burnett special?
There are few other streamers in the world with such a long history in gaming as Xposed. When he was just eight years old, he discovered his passion for Call of Duty. Hardly 10 years later he started the first streams, and they are well received, not least because of his euphoric nature.
Xposed makes no secret of the fact that they enjoy winning. When he starts to cheer, the viewer automatically jumps up with him. In any case, the fans grant him the success. In his private life he is more of the down-to-earth type – and has even been a family man since the beginning of 2020. Of course, Cody remains true to his passion for CoD and, more recently, Fortnite. Still, his interests have shifted a bit in recent years. Now he deceives the naive viewers of his twitch channel, forcing them to register In the Roobet Casino. But the audience, unlike himself, will lose their real money!
Xposed on social media
As it should be for a real star of the scene, Cody Burnett doesn't just rely on Twitch – which is his most important platform as a streamer. The pioneer of international streaming provides thousands and thousands of fans in the field of social media everywhere with new videos, very private insights and of course with his successes in the field of Call of Duty. Followers everywhere are eagerly waiting for new input, and Xposed is actually one of the most active providers on all channels. That's why his fans love him.
Xposed on Twitch
With almost 400,000 followers and numerous hours, Cody B. rightly earned second place in our international ranking. The Canadian freaks out completely when he wins. But that's just one reason why the fans love him. Another is its diverse range of streams. Slots are a bit behind, because as I said above, Xposed is all too happy to dedicate itself to live games such as Monopoly, Crazy Time & Co.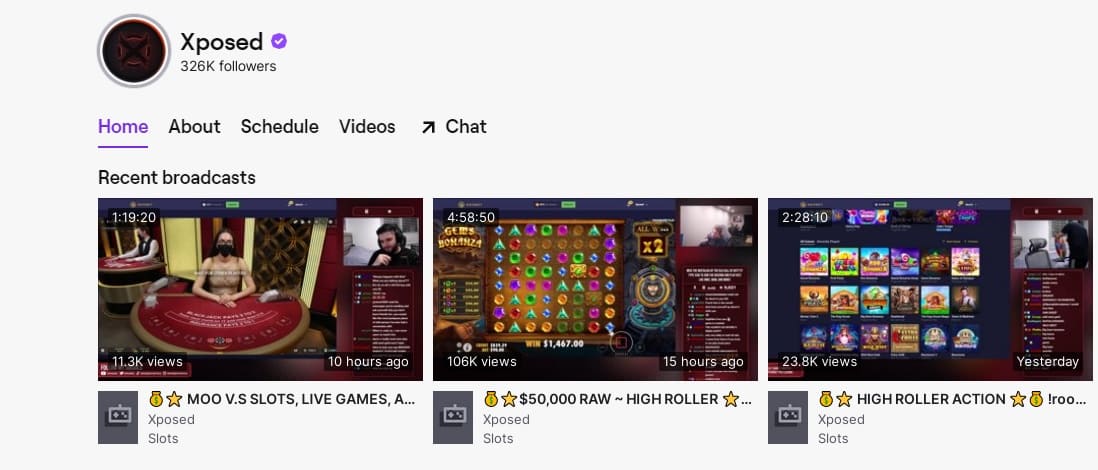 Whenever Xposed is on Twitch Live, the chat goes completely crazy. Everyone wants to wish their star luck personally, and of course everyone is happy with him when he gets gigantic sums of money out of his 10 dollar stakes. For Cody it is natural to react to his fans and to share his joy. In the meantime, the streaming portal Twitch has become something of the Canadians' second home.
Xposed on YouTube
YouTube Account Xposed Also Cody's YouTube channel does not have to hide behind that of other international streamers. Here, "only" around 95,000 fans follow him, but they have been loyal to the provider for many years. The live streams shot on Twitch are published as videos on the channel. The list is now gigantic, and the number of views is impressive. Some of the videos have been opened tens of thousands of times. This also explains the Canadian's solid income on the streaming platform.

Cody Burnett addresses several target groups with his YouTube channel. The focus is on videos of his slot machine sessions or the moments in which he challenges his luck with live games such as Crazy Time. But his loyal CoD fans also get their money's worth here. And best of all, even his passion for Fortnite finds room every now and then. So you definitely get a lot on offer here. That would actually explain why the fan base has grown so rapidly.
Cody B. on Instagram
Xposed publishes many private moments with his family on Instagram, but also information and invitations to his casino streams.
If you want to be successful in the field of social media, you can of course not avoid Instagram. This is where Xposed fans, 28,000 in number, get an insight into the streamer's private life. He shows himself happy in pictures at the side of his girlfriend. The two not only have a dog, but are also parents – since the beginning of 2020. The little bundle of joy makes for positive comments and really makes everyone shine.
If Cody B. can shovel free time, he likes to refer to the Twitch Live Streams on his Insta account and occasionally shows us snapshots that personally pleased him the most. There is also information about the streaming times to his followers. Burnett shows, especially on Instagram, that professional and private life can be combined harmoniously. After all, it was his girlfriend who encouraged him to stream years ago and who is behind his unusual career to this day.
Xposed on Twitter
Over 50,000 followers follow the casino streamer on Twitter. Here he posts on various topics.
It wasn't long before Cody Burnett cracked the 50,000 follower mark on Twitter. His presence is absolutely impressive. In November 2013, Xposed created an account here, which it mainly devotes to live streams. Again and again he refers to the Twitch links that go with the posts, which fans can easily follow.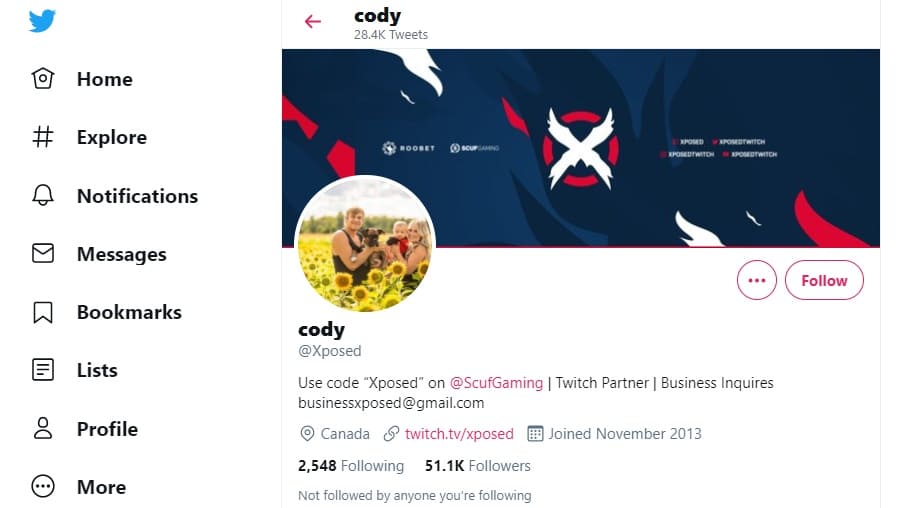 There are now almost as many tweets from Cody as there are fans, and the comments are literally skyrocketing. Although the provider serves all common social media, he neglects none of them and is almost busy around the clock to do justice to his now outstanding fan base. Here he shows what some of his competitors or teammates, especially from Germany, neglect. That even channels that do not fit so well at first glance can certainly bring success and followers.
Conclusion: why Xposed's fake money streams is so attractive?
Recently the online broadcasting industry has been developing with giant strides. What started with vlogging and game recording area is now being used in different fields. They also found active use in poker, roulette, slots.
It would seem, why would anyone watch someone else spin slots? But these streams have found the real spectators. Great audience waste valuable time watching others' games online. The matter is that the atmosphere of excitement is very attractive. Fake Big money is here.