MGA Casinos are very popular because Malta is the unexpected online gambling capital of Europe. Hardly any other country issues as many online casino licenses as the small island nation. The Malta Gaming Authority (MGA) is responsible for issuing licenses and monitoring the license conditions. This regulator knows what it is doing and has an excellent reputation. On this page, we give an overview of a Malta Casino license and explain why it is so reputable and secure.
Today the Malta Gaming Authority is one of the best known and most respected regulatory authorities in the world. Due to strict admission procedures and strict requirements, online casinos with an MGA license enjoy a very serious reputation.
Best Online Casinos With License From Malta
In addition to minimal or nonexistent usage restrictions, these also stand out due to their extremely attractive bonus promotions. Why should you resist that when gambling is trustworthy there too? In this article we will guide you through the most important information about MGA online casinos.
MGA info
| | |
| --- | --- |
| Name | Malta Gaming Authority |
| Address | Building SCM 02-03, Level 4, SmartCity Malta, Ricasoli SCM1001 |
| Phone | (+)356 2546 9000 |
| E-mail | info.mga@mga.org.mt |
Important information about MGA Casinos
| | |
| --- | --- |
| MGA Casinos | 15+ |
| With Visa | Yes |
| With Mastercard | Yes |
| Cryptocurrensies | Not available at MGA casinos |
| Biggest Bonus | 1.000€ |
| Max. Free Spins | 200 |
| Deposit limits | No |
| Wagering Limits | No |
| Casino games | Slots, progressive Jackpots, Live Casino, Blackjack |
The Malta Gaming Authority also pays attention to the following points from time to time: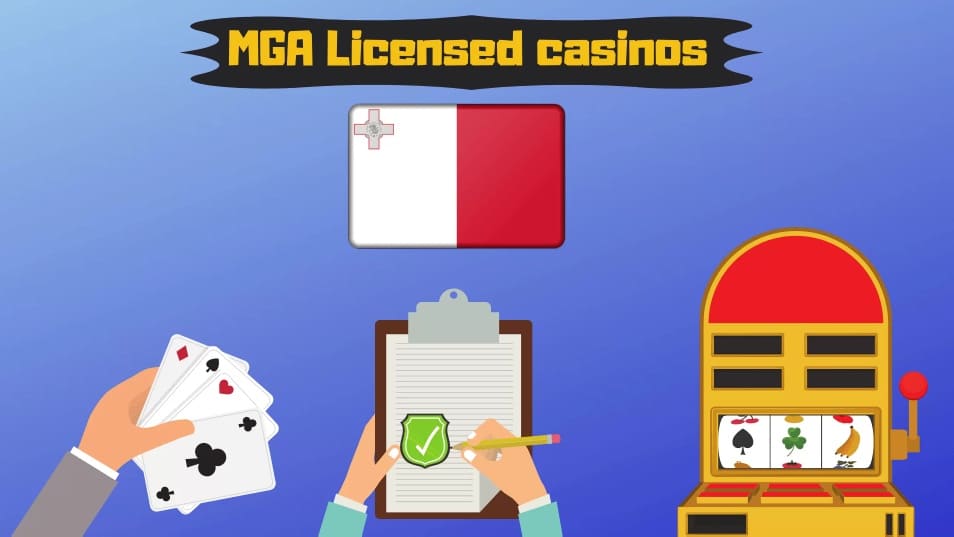 The online casinos must provide detailed answers about your gambling and lottery activities.
Solid legal advice is provided to casinos if they want to get involved in the gambling business.
The authority handles complaints from players and takes problems seriously.
The MGA tries to prevent money laundering.
The games must run through a certified random number generator and live dealer games must be managed by professional dealers.
All in all, more flexible gaming is combined with important security aspects. You can therefore contact the authorities at any time should you have any problems.
These problems can be reported to the MGA
There are several reasons why players can turn to the Malta authorities. In general, contact can always be sought if the players feel they have been treated unfairly. If, for example, the payment amount is incorrect, this is a case for the authorities.
In addition, Malta Gaming Auhority is also contacted because players feel they are being treated unfairly by a provider's bonus conditions. MGA is responsible for complaints in the area of ​​IT security, data protection, verification or the general terms and conditions. In short, players can turn to the Maltese authorities with any problem or concern they may have.
How can I complain?
In general, it is made very easy for every player to complain to the Malta Gaming Authority about a provider or his way of working. A contact form can be found directly on the authority's website, which can be filled out within a few moments. Here the players can describe their case and, if possible, provide screenshots or something similar. The more precisely the case is described, the easier it is for the agency to respond correctly.
At the same time, the MGA also points out on its homepage that players should always seek direct contact with the provider in the first step in order to discuss the problem with them. If this does not lead to a solution, the help of the authority can be called upon. There is of course more information on this subject, which is why we recommend visiting the MGA's complaints page directly. Also, you can visit Online Casino Forum and Leave Complaint Here.
The history of the Malta Gaming Authority
The Malta Gaming Authority was founded in 2001. At that time, Malta passed a law regulating lotteries and gambling. The MGA was set up as an official control body, which is also responsible for licensing the providers. Over the years, the authority has been able to develop a first-class reputation and is one of the most competent contact points.
That is also the reason why players rate the license of this authority as extremely trustworthy. In addition to casinos, lotteries and sports betting, the area of ​​responsibility now also includes fantasy sports, poker and other games of chance.
Conclusion
The importance of a license for online casinos is enormous, because every player can rely on the reputable online casinos due to this license. Malta's authorities have been doing a great job for many years, keeping players safe. If you play in casinos licensed by the Malta Gaming Authority, you definitely have nothing to fear. In addition, we recommend our alternative guides on the working methods of the UK Gambling Commission and the Gibraltar Gambling Commissioner.