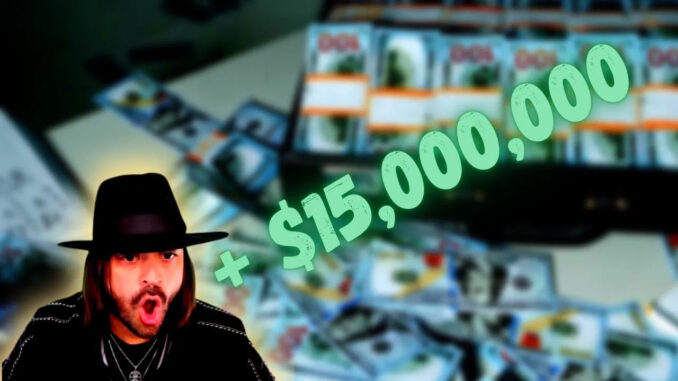 Once again, we return to a very controversial personage, namely Roshtein. You may have read on our website that he plays for fake money and on dedicated servers. Unfortunately, the video confirmation of this is blocked on Youtube at the moment. However, you can read the article at this link. But in this article, we will discuss Roshtein's biggest win in the history of his streaming.
Roshtein's Biggest Win + $15 Million
Not long ago, he was rejoicing at his new winning record of $2 million. But not even a couple of months later, that record has been broken again. And it is a sum of money that is beyond belief. We're talking about the $15 million given away by the Wanted slot from provider Hacksaw. This amount was not won in one bonus game but in several. Below you can find a snapshot of all the big wins. Interestingly enough, this happened at one of the new online casinos, Stake Casino.
Apparently, this gambling club decided to appeal to Roshstein's large audience right away and arranged to stream with him. What happened next, however, can be viewed in different ways. Our team is sure that it was just a marketing ploy to attract new customers and that Rothstein didn't get any $15 million. You might think differently. One thing is clear, Stake casinos are everywhere. Let's find out what this new project is all about.
Roshtein VS Stake Casino

As we said before, we have suspicions that the game was not run on the main server and that all these winnings are fake. But now the conversation is a bit different; what kind of casino is it that can conditionally withdraw $15 million to a player? As it turns out, Stake Casino is a fully cryptocurrency project. That is, you can make deposits, receive payouts and play games here solely using cryptocurrencies.
In addition, on the main casino page, you can find banners stating that Stake casino is an official partner of the UFC and other sports clubs. So, we can assume that they do have money for advertising and payments to players.
How can you please us with this casino, except the ability to play cryptocurrency and sports betting? Players won't get the welcome bonus package you're used to at other online casinos. Here, the bonus system is built in a slightly different way.
The player needs to increase his current level, making it possible for him to start receiving prizes and gifts. And with each new spin in the storage player accumulates funds. So no matter whether you lose or win, you earn more money, which you can use at any time. In addition, a drawing of $50,000 is held every week among all players. So every day, you can take part in a $10,000 tournament. To be honest, the bonus system is impressive.
If you have a question, what should I do if I don't have any cryptocurrency? That's not a problem. You can buy BTC or ETH directly from the Stake casino website using your credit card, Google Pay or Samsung Pay.
A Few Words About Wanted Slot
Of course, we can't leave out the Wanted (Dead Or A Wild) slot itself, which handed out some impressive bonus games totaling $15 million for Roshtein. It's another creation from provider Hacksaw, which has started to gain rabid popularity with players.
The game features three types of bonuses, each with a Buy Bonus Feature. The RTP of the slot in the main game is 94.55%, but it is different for the Buy Bonus rounds. And the maximum multiplication a player can expect is x12,500. And a couple of words about the bonus game options:
The Great Train Robbery. This bonus game can be purchased for x100 of the bet size. The RTP will be 94.49%, and the game is very similar to DOA 2. You're given 10 spins, during which the wilds that come out will stick until the bonus round ends.
Duel at Down. The RTP at BUY FEATURE is 94.33%. You are given 10 spins, during which you have to catch VS symbols. If you catch several of these symbols, they will become vertical wilds with random multiplication up to x100. Thus, the feature is worth x200 of the bet size.
The Dead Man's Hand. Finally, you can purchase a bonus for x400 of your bet size. In this case, the RTP is 94.59%, and the bonus itself is somewhat similar to Chaos Crew. First, you need to collect up to 21 wild symbols and up to 30 multiplier symbols. The game continues for up to 3 consecutive empty spins. Then three spins are triggered where each spin will see the resulting number of wild symbols, and the winnings are multiplied by the final number of X symbols.
But it's better to see how it happens by playing Roshtein in this slot as an example. So enjoy the excitement of winning $15 million.