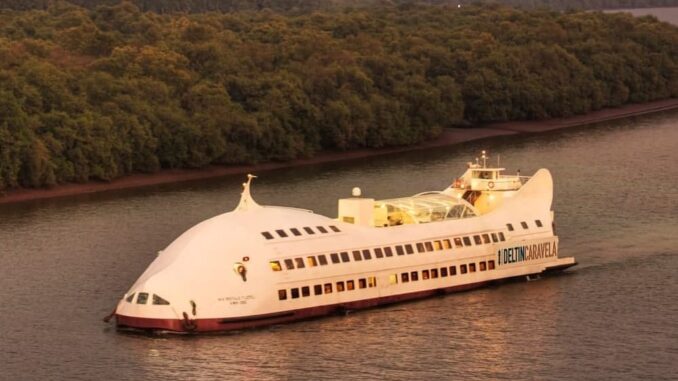 There will soon be a floating luxury casino in Argentina. To do this, an old eight-story ship is being converted for around 60 million US dollars. Then visitors will soon be able to play classic games of chance such as blackjack, roulette or poker here. The multi-million dollar project is being implemented by the well-known Argentine company Compañía Comercial de Turismo.
Also you can visit the Best Online Casinos For Argentina
Casino ship is to remain stationary in the port
Unlike other casino ships, the floating luxury casino of the Argentines is to be moored to a bridge at the harbor. So no round trips or sightseeing tours should be offered so that the focus can be placed on the gambling offer.
Puerto Iguazú is a small town on the Triple Frontera, the triangle between Paraguay, Brazil and Argentina. The annual average temperature here is around 24 degrees Celsius. The main source of income for the port city is tourism. The city is internationally known mainly because of the impressive Iguazú waterfalls, which are located about 18 kilometers from the city.
The ship with the name Nicolás Mihanovich was built in 1962 and is therefore almost 60 years old. For this reason, it is no surprise that the eight-story ship has to be extensively rebuilt and renovated before it can be used as an Eldorado for gambling fans. A total of around 60 million US dollars are calculated for this. In his earlier life, the Argentine ship was home to a casino and a hotel.
The casino ship should not only have over 50 modern cabins, but also swimming pools, fitness studio, solarium and jacuzzi should be put back into the limelight. This gives the ship's guests enough variety from glamorous casino entertainment.
More than 60 ship casinos in the US
Floating luxury casinos have been particularly popular in the United States for several decades. There are currently 63 casino ships in operation in six US states. These include Indiana, Mississippi, Illinois, Iowa, Louisiana, and Missouri. Incidentally, in Illinois alone, the casino ships generated tax revenues of almost 400 million US dollars. This branch of business is not only lucrative for casino operators. The government also earns a lot.
Conclusion
The Argentine government is likely to expect tax revenues in the millions from its luxurious casino ship. Such a floating luxury ship is so far unique in South America and could lead to many tourists flocking to the port city of Puerto Iguazú. It has not yet been determined when the casino ship can be expected to open. What is certain is that the renovation costs of 60 million US dollars will not only result in a pompous play area, but also a wellness and sports area.