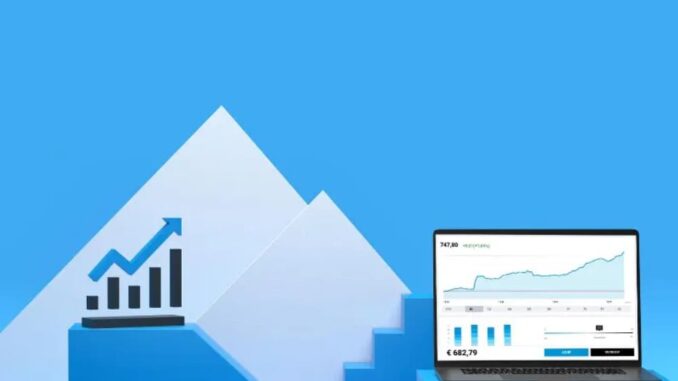 Trading in stocks is booming. Numerous industries are still lagging behind their 2019 and 2020 results due to Corona. In addition, there are difficult forecasts for aviation and for industries that deal with conventional energy sources or fossil energies. Companies for whom aviation only accounts for part of their income are doing better at the moment. The 2020 crisis has shown how vulnerable individual industries and the economy are. Big airlines like Lufthansa, Air France, Delta, Easy Jet or Aeroflot have lost massively in value and some of them could be bought quite cheaply on the stock exchange.
The Lufthansa share lost so much of its value that it has meanwhile been bought for between 7 and 8 euros. In the long term, this should be a low entry price. In general, the value has already risen again because many traders assume that aviation will also recover. Deutsche Lufthansa is a company that is given massive support by the state of Germany. Specifically, it means that the state has taken over shares in Deutsche Lufthansa so that it does not fall completely victim to the corona pandemic. According to many investors, the state should reduce its shares again over the coming period and thus help the group to sustain itself and make ends meet again. Armaments, defense and aviation companies have also depreciated significantly and can sometimes be bought at historically low prices.
In Great Britain, companies such as British Aerospec and Babcock International are particularly well known. In the defense as well as in the infrastructure, the companies have a large and important part in many things that are implemented in the United Kingdom. In addition to traditional infrastructure divisions, the defense, energy and civil aviation segments are also in demand. Since the latter area was badly neglected in 2020, the price of the shares at British Aerospec and Babcock International also fell very sharply.
In 2020, BAE Systems shares hit a low of just EUR 4.50 to EUR 4.60 per share. Over a five-year period, this is the absolute lowest level that could be achieved. Only in 2002 was there a major crisis when a company's paper could be purchased for just 2 to 2.10 euros. BAE Systems, or British Aerospec, is one of the largest arms companies in Great Britain. The company has around 80,000 employees and has sales of almost $ 20 billion every year. It was founded in 1999 as a merger of various companies. It is the third largest group of its kind in the world.
The fields of activity are extremely varied. Military aircraft and reconnaissance aircraft are produced by the Military Air Solutions unit. In the industry there are also partnerships with Boeing or Lockheed Martin as well as other armaments and defense companies around the world. In direct warfare, there is a strong emphasis on laser control, which can be implemented by the BAE Avionic Department. In addition to production, the maintenance and service of the products are also among the fields of activity of BAE. The Customer Solutions & Support unit takes care of this, and the company also has subsidiaries. In addition to the air, there are also units on land and water with which one acts. BAE also produces or orders submarines and naval ships. Land Systems has its own unit for activities on land. Ships are launched with the Naval Systems unit and are definitely an important pillar of the company.
BAE Systems has its own division for the North America region. That means that they produce numerous products there that are relevant for the US market. Various acquisitions were made in the early 2000s and lead to the entire BAE Systems group growing significantly. During this time in 2002, the share suffered a period of weakness, namely at times of 2 euros per note. From today's perspective, this is a more than cheap opportunity to invest in a strong and large company structure in the industry. Today the group operates worldwide. This assumes that production is carried out worldwide and, of course, also global partnerships with great companies. The governments of various countries, especially Great Britain of course, are among BAE Systems' important customers. One of the major advantages is that defense industry products usually have an expiration date or, for example, have to be serviced. In addition, of course, there are losses of products while they are in use, because they can theoretically also be destroyed.
In the near future, the defense industry is likely to continue to grow worldwide. This is due, among other things, to the fact that corresponding contracts between countries stipulate that certain expenses are incurred. Added to this, of course, are global crises and the desire for security and defense. Various companies have already announced that they will have full order books over several years and thus achieve a constant cash flow. BAE Systems is one of the 5 largest companies in a growing industry that will almost always exist. Even if a large part of the products is never used, there are a lot of further developments and technologies in this industry that want to be used. A lot should happen over the next few years at BAE Systems, Lockheed Martin, and other big names in the industry. The shareholders benefit from the increasing turnover and of course also from the costs that arise there. Distributions in the form of a classic dividend are realized twice a year in Great Britain. In the United States of America, these distributions are even implemented every 90 days, i.e. once a quarter, and therefore ensure a good mood among shareholders.
Trading via DEGIRO – 50 stock exchanges and low costs
DEGIRO differentiates itself from its competitors primarily through particularly low costs and a strong portfolio. On the group homepage it is advertised that over 1 million customers are active at DEGIRO and take part in trading. The broker has received several international awards. In plain language, this means that there are more than 66 international broker awards from which DEGIRO benefits and through which the company is positively mentioned.
With a company headquarters in the Netherlands and also in Germany, the BaFin in Germany offers classic regulation. There is also some form of regulation that can be exercised through the AFM in the Netherlands. As a trader, you are in good hands with DEGIRO and you can be sure that this company is not trading in secret, but is one of the well-regulated and secure brokers in a globally growing market. It has long been clear that DEGIRO is active in an important industry and relies on all relevant security features. This creates trust and ensures a sustained increase in customer interest. The depot is opened at DEGIRO within a short time and can be operated entirely via the Internet. Your own data can be accessed in the shortest possible time using a desktop computer, smartphone, app or laptop. Course developments, news about companies and courses as well as histories and charts can be conveniently viewed and tracked in the account. This creates a high level of trust and everyone involved and has recently contributed to developing DEGIRO into one of the top brokers in Europe. The total of at least 66 awards do not come from nowhere, but are the result of years of hard work and many optimizations.
Support and costs are right at DEGIRO
For an order over EUR 1,000 on the Xetra market, DEGIRO customers pay an average trading fee of EUR 2.18. This is massively lower than is currently offered by other brokers and trading providers on the market. In addition, ETF trading and trading in FX products are offered on the homepage at low conditions. Customers can call up services over the traditional telephone. The service team is available very quickly on 069 and is happy to answer callers' questions during normal business hours. There is currently no chat service at DEGIRO. There is the option to write an e-mail to the service and use this to address questions. Experience has shown that the DEGIRO team takes care of concerns and inquiries that are made by customers very quickly. Often a qualified answer arrives on the same day, which is submitted by e-mail and which can be clearly understood, because standard answers are not only used here.