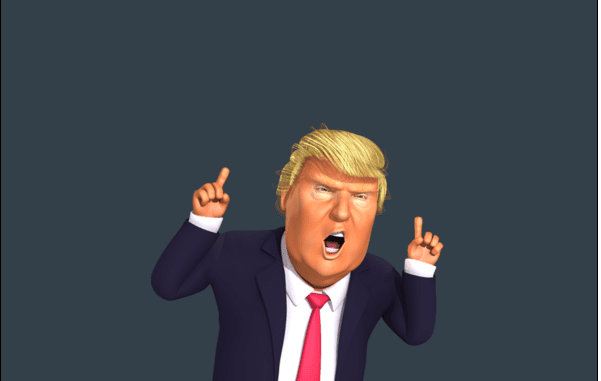 The Trump It Blackjack online table by Fugaso is available in different versions. In addition to the single deck version, which is only played with one hand, there is also Trump It Blackjack Classic with a total of five hands. I took a closer look at the latter variant and will tell you what experiences I had while playing.
Play Trump It Blackjack for free here
If you want to play the demo version of Trump It Blackjack for free, you can do so at Bitstarz Casino, for example. But there are also other blackjack online casinos that have the gaming table in their portfolio. When playing in demo mode, you have the opportunity to test the game mode very carefully.
Since you are not actually making any real money bets here, you are not actually losing any money. This makes it possible to try out risky moves to see what happens. If you have had the chance to try everything once, you will be braver in real money mode, but also more successful. I therefore recommend everyone to use the demo mode of a game to their own advantage.
The game comes across as American like Trump. The blackjack table is designed as an America flag, so there is no avoiding the subject. In contrast to the Trump It Single Deck version of the game, 8 decks of cards are used here. In addition, a player has 5 hands at once against the dealer's one hand.
The structure of the table is self-explanatory, so that even beginners shouldn't have any problems with understanding the Trump It Blackjack online game right away. If you need more information about the game mode, you can also read it clearly in the game. In the demo version in an online casino there is no difference in the structure of the table to the real money version.
Game mode and special features
Trump It Blackjack is played with 8 decks of cards and 5 hands. So you make 5 bets in each round and play against one of the dealer's hands. You can bet a minimum of 0.20 and a maximum of 200 euros. If you manage to hit blackjack, your bet will be paid out 3: 2.
If the dealer's visible card is an ace, you can also take out insurance. For this you have to make another bet and if the dealer actually has a blackjack, you will at least get your insurance paid out 2: 1. It makes sense to learn certain blackjack strategies in order to get the most out of your hands.
A hand with two cards of equal value can be split in Trump It Blackjack. However, a split is only possible once per hand. The stake can be doubled both before and after a split. The split hand must be completed by you with a hit or stand, so more than just one card can be drawn.
If you split two aces and then draw a card that leads to blackjack, the hand does not count as blackjack but as a normal 21. You cannot blackjack on a split hand. So only 1: 1 is paid out here.
Details
| | |
| --- | --- |
| RTP | 95,94% |
| Blackjack pays | 3/2 |
| Decks | 8 |
| Multi-Hand | Yes |
| Insurance | Yes |
| Surrender | No |
| Split | Yes |
| Re-Split | No |
| Hit Split Aces | Yes |
| Double | Yes |
| Double After Split | Yes |
| Dealer Peek | No |
| Dealer Hits Soft 17 | Yes |
| Side bets | Yes |
If you have used the double function, i.e. doubling your stake, you can no longer make a hit. Only one more card is automatically drawn and your hand is completed. However, doubling is still possible after a split.
A special feature of Trump It Blackjack is that there is a gamble feature after every win. It's a card risk where you have to decide each time whether a red or black card will be revealed next. The profit can be doubled a maximum of 5x, but you can also lose everything.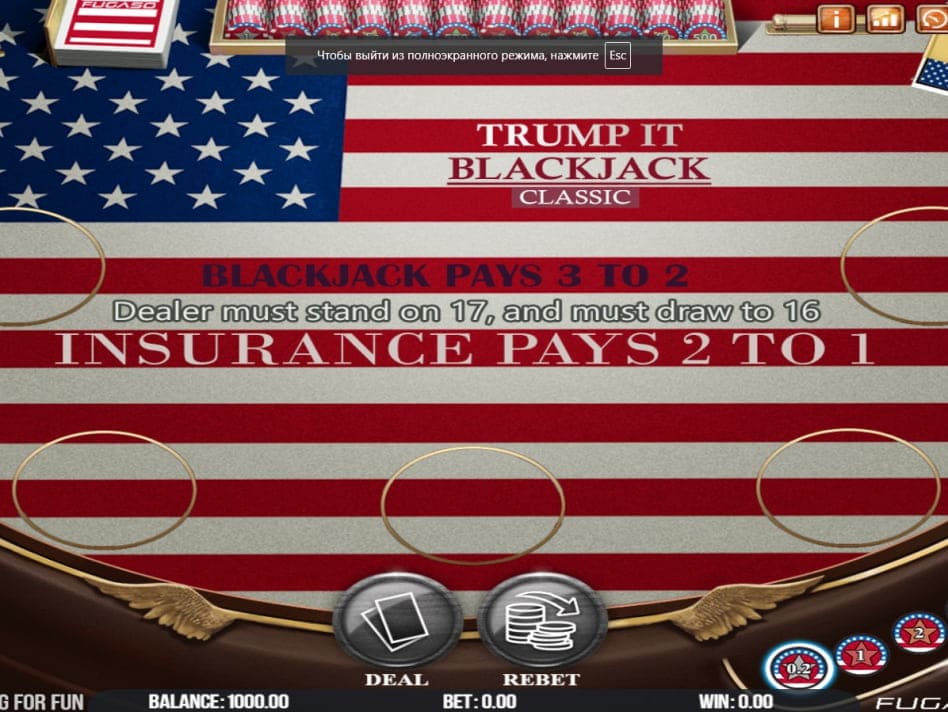 Play Trump It Blackjack for real money – up to € 200 per hand
You have already played the Fugaso gaming table extensively in demo mode and are now very familiar with it? Then it's time to play Trump It Blackjack for real money, because only here can you turn your skills into real money. You should definitely know the basic blackjack rules.
The bet size is designed more for normal hobby players, because high rollers don't offer huge amounts. You can bet a maximum of 200 euros per hand. Thanks to the gamble feature, your winnings can be significantly higher than with a 3: 2 payout for blackjack or a 2: 1 payout for insurance.
In any case, dare to play Trump It Blackjack for real money and don't just stay in demo mode. You don't have to make any big bets, you start here from 0.20 euros. In many of the best online casinos you will find the gaming table and maybe you can secure a Trump It Blackjack bonus.