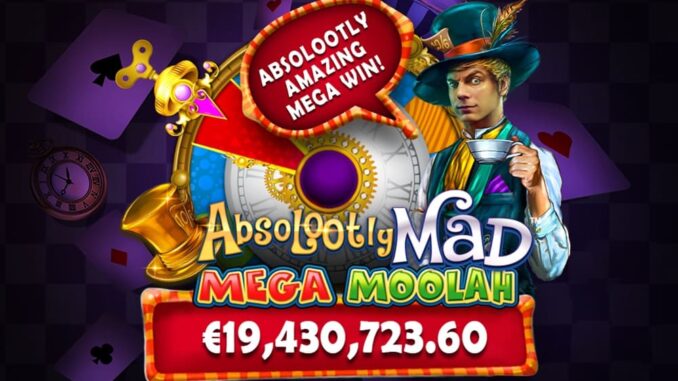 The different game versions of the Mega Moolah Slots from Microgaming have been among the most popular slot machines on the online gambling market for years. The payout ratio is relatively low compared to other slot machines. There are several progressive jackpots to be won in the Mega Moolah network. The highest jackpot always starts with a minimum amount of one million euros. Accordingly, the slot machine has been popular with players from all over the world in the past.
Mega Moolah Jackpot: Over 19.4 million euros go to Belgium
As the software company Microgaming reports in a press release, the record win at the Absolootly Mad ™: Mega Moolah slot was won by a Belgian player. He could hardly believe his luck at Napoleon Sports & Casino on April 27, 2021. The player won an incredible 19,430,723.60 euros in one fell swoop. Unfortunately, the lucky guy who won the jackpot with a stake of 15 euros wanted to remain anonymous so far. Microgaming CEO John Coleman was delighted for the jackpot winner from Belgium:
"We are very pleased that Mega Moolah is making history again with its latest record win. And what an incredible profit that is – 19.4 million euros. This is the largest online slot jackpot payout of all time. Congratulations to the player! "
The CEO of Napoleon Sports & Casino, Tim De Borle, also had a say in Microgaming's press release:
"It almost feels like our website has become the home of the jackpot. This record breaking jackpot is the absolute highlight of our amazing partnership with Microgaming ".
When we reported the highest winnings in the online casino 2020 in January of this year, a Mega Moolah jackpot win of 14.2 million euros also made it to first place. Also in second and third place were prizes of around 10.7 and 7.7 million euros respectively, which were won at the legendary Mega Moolah slot. According to Microgaming, a total of more than 1.3 billion euros has been paid out for all jackpots, levels and games in the progressive jackpot network.
The Absolootly Mad ™: Mega Moolah slot was only released in May 2020 by Microgaming. The slot machine has five reels and 243 ways to win. The payout rate is given as 86.72%. There is the same jackpot as in the "normal" Mega Moolah slot. This is always at least one million euros.
Conclusion
For the anonymous lucky guy from Belgium, life should change noticeably after winning millions, at least from a financial point of view. On April 27, 2021, he won over 19.4 million euros with just one spin, more than ever won by a single player on a slot machine in the online casino. His stake was 15 euros and he was playing at Napoleon Sports & Casino.