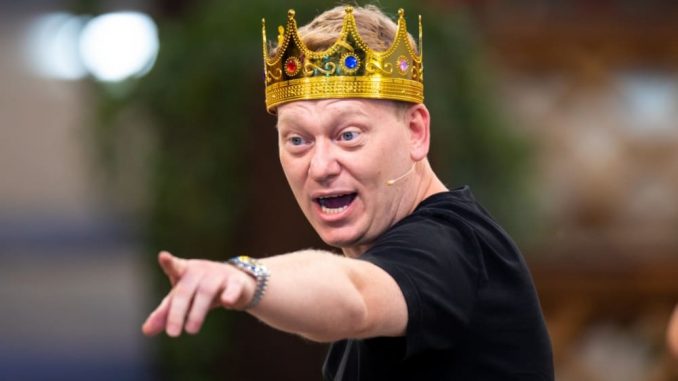 The 33-year-old Jens Heinz Richard Knossalla, better known under the pseudonym "Knossi", is known throughout Germany as an entertainer and streamer. In the past we have reported several times about his exciting casino sessions, which were often associated with high losses, but sometimes also with impressive profits.
Criticism of Knossi
After "Knossi" defended his activities for a long time and stated that he did not want to tempt you to play, he now seems to be going through something like a change of heart. In any case, the rumors are getting louder that the popular casino streamer with around 1.3 million followers on Instagram could soon stop his "leisure activity". But what made the self-proclaimed "King of the Internet" rethink and how is the scene going on now?
When Jens Knossalla started playing on the Internet via a live stream several years ago, he probably had no idea how successful he would be with it. In the meantime, almost 1.5 million people have subscribed to the "Knossi" Twitch channel. Tens of thousands of gambling friends regularly watch the 33-year-old live as he plays with sometimes very high stakes in the online casino. Recently, however, the criticism has increased and "Knossi" was confronted with the accusation of seducing young people in particular to play.
Casino streaming – what is it?
With casino streaming, the activities in the online casino are broadcast live to the viewers' screens. This means that every viewer on the respective streaming platform (e.g. Twitch) can see how much the streamer is using, how much he is gaining or losing. Likewise, the reactions and emotions of the streamer themselves are usually shown so that the viewer can cheer on their own screen. As a rule, the casino streamers resort to popular online slot machines and invest an above-average amount of money to increase the tension factor.
ZDF report sharply criticized "Knossi"
In a recently broadcast ZDF report, the "frontal21" format dealt with the topic of gambling in connection with casino streaming. The ZDF primarily criticizes the fact that "Knossi" is not authorized to advertise gambling on Twitch and that its behavior encourages young men and women to play. Furthermore, there are (still) no deposit limits in many online casinos, so that especially people at risk of gambling addiction run the risk of losing large sums of money within a short time. While "Knossi" streams its activities in online casinos live, tens of thousands of people are watching and it is suggested to them that they can earn a lot of money with online gambling. Young people in particular are mostly exposed to the casino content on Twitch because they are not aware of the special opportunities and risks of online gambling. Much better education about topics such as gambling addiction and responsible gaming is required before entertainers like "Knossi" can play live in front of thousands of players for large sums of money.
In the ZDF report, the neurologist Dr. Monica Vogelsang has his say. Specifically, she said: "Online streamers are dangerous for society. They simply represent a seductive situation that people who are susceptible to it start gambling, gamble more or even relapse again ". Ultimately, "Knossi" earns from the loss of the recruited players. In some cases, the advertisers receive up to 50% of the losses that the players suffered. With these commissions alone, it is easy for casino streamers to finance their own stakes. It was only in September of this year that we reported on whether casino streamers really always win – with a surprising result.
"Knossi" in portrait
| | |
| --- | --- |
| Name: | Jens Knossalla |
| Nickname / Username: | "Knossi", "TheRealKnossi" |
| Age: | 34 |
| From where | Malsch, Baden-Wuerttemberg |
| Activity: | Casino Streamer, Entertainer |
| Twitch Followers | about 1.466 million |
| Instagram Followers | about 1.33 million |
| Estimated earnings from Twitch 2020 | approx. 760,000 euros (source: ingame.de) |
"Knossi" is rowing back – is the end of its casino streams in sight?
The transitional regulation of the new State Treaty on Gaming has been in effect in Germany since October 15, 2020. All online casinos that are trying to get a German license have since then had to adhere to strict rules. Among other things, the deposits have since been limited to 1,000 euros per player. Furthermore, there is a maximum stake per game round. For the self-proclaimed "King of the Internet", these strict rules should not really be conducive to business. After all, the young man from Baden-Württemberg drew attention to himself primarily through his high stakes and the associated high risk. In the future, at least in reputable online casinos, it will no longer be possible for him to play with such high stakes.
In addition, in the recent past it is not only the media that have focused more on casino streamers. Individual players and former supporters of "Knossi" also speak out on the Internet and demand an immediate end to the casino streams. An 18-year-old recently published a video on YouTube in which he describes how he himself became a victim of gambling addiction and lost several thousand euros.
A short time later, Knossalla alias "TheRealKnossi" actually reacted and said in his stream that gambling on Twitch would soon be "over". He also stated that he was unsure how to proceed in the future. He is also aware of his responsibility and stated that the gambling problem on Twitch is developing in a direction "where it is no longer fun". At the same time, however, "Knossi" emphasized that he did not want to end his casino stream completely. The top priority for him is having fun while playing. At no point did he want to seduce anyone into gambling. The fact is and remains, however, that "Knossi" also earns a lot of money by streaming its casino content. Therefore, he is faced with at least one conflict of interest with himself every day.
Which successful casino streamers are there worldwide?
In addition to "Knossi", the user "Roshtein" is known worldwide as a casino streamer. Over the years "Roshtein" has built a community of more than 300,000 members. Characteristic for him are the high stakes of up to 100 euros per spin. There is also the "CasinoDaddy" group, which now consists of nine members and has a total of 150,000 followers. In German-speaking countries there are also Jannowitz90, CasinoMoLive and Shirox, each with a comparatively small fan base.
Conclusion
Not only the casino streamer "Knossi" is severely criticized in the current ZDF report. He and other successful casino streamers are accused of encouraging inexperienced young people to gamble on the Internet. The casino streamers conceal the fact that they earn money from the losses of the recruited players and can thus easily finance their own stakes. Since Twitch and other streaming portals do not have a reliable age check, even minors can easily gain access to casino content.
It is to be expected that the recently adopted transitional regulation of the State Treaty on Gambling will soon also have an effect on casino streaming. Because if the online casinos regulate deposits and stakes in accordance with the law, the market opportunities for casino streamers deteriorate considerably, since only small stakes are allowed. It is questionable whether streamers like "Knossi" with the announcement that they want to end casino streaming soon, only want to attract attention or whether there is a serious intention behind it. The coming weeks and months will show whether casino streaming will have a future in German-speaking countries or whether the more than 1.4 million Twitch subscribers of "Knossi" will soon have to look for an alternative.