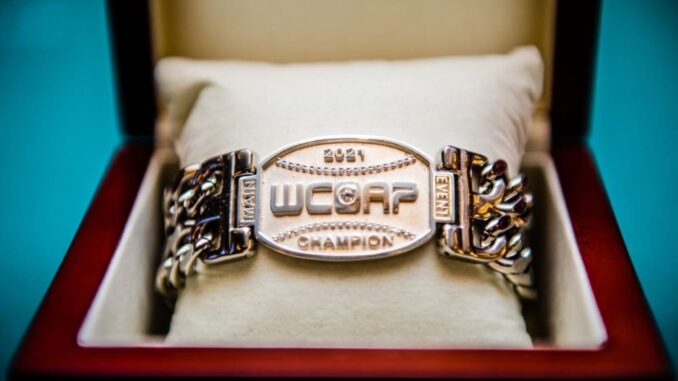 For the first time, partypoker is hosting a poker tournament aimed exclusively at amateur players. A total of 30 events with 16 championship events will take place during the tournament period. The buy-in is between 55 and 530 US dollars. Sometimes there are even "mini versions" of the events, where just a few US dollars are enough to participate. But on which days do the highlights take place and how attractive can the first online version of the tournament series be?
Guaranteed prize pool of $ 750,000
The amateur players can look forward to a total prize of 750,000 US dollars in the two-week tournament period. The highest individual prize will be awarded at the tournament finale on February 7, 2021 – a whopping 150,000 US dollars will be paid out to the first-placed winner in one fell swoop at the so-called "Main Event". In addition to the prize money, the winner can look forward to the title of "Amateur Poker World Champion".
The fact that there is also a World Championship in amateur poker is by no means new. The event is now being held for the 16th time. What is new this year, however, is that the tournament series will take place entirely online due to the global pandemic. In order to participate in the online tournament, players must register at partypoker. The tournament series is surprisingly broad. There is not only Texas Hold'em as a variant, but also Seven Card Stud and Pot Limit Omaha.
Partypoker is an online poker platform from Party Gaming plc based in Gibraltar. The company, which was founded in 1997, is listed on the London Stock Exchange. In addition, partypoker has been successfully organizing poker tournaments all over the world for years. In total, over seven billion hands have been played in real money poker games.
Highlights of this year's partypoker World Cup
There are particularly interesting events with high prizes on almost every day of the tournament. In addition to the two-day "Main Event" on February 7th and 8th, in which US $ 150,000 alone will be distributed, there is also the "Super High Roller" event on February 3rd. Here the prize pool is $ 100,000. In addition, there is a prize pool of 75,000 US dollars each at several poker events (e.g. High Roller Championship, Knockout Championship). We list this year's tournament highlights again in chronological order below:
6-max Knockout Championship January 24th – Prize pool: $ 75,000
High Roller Championship on January 27th – Prize pool: $ 75,000
Knockout Championship January 31st – Prize Pool: $ 75,000
Super High Roller February 3rd Prize Pool: $ 100,000
Main Event on February 7th and 8th – Prize Pool: $ 150,000
WCOAP Mini Series with a buy-in of US $ 5.50
Actually, the entire tournament is aimed at amateur players. But here, too, a distinction must be made between players who play with different budgets. For the main rounds listed above, the buy-in is usually 55 US dollars, but sometimes a little more. In the "Super High Roller Championship" event, each player even has to pay 530 US dollars as a buy-in or fee.
It looks different with the so-called WCOAP Mini Series. This is a "mini version" of the tournament series, where the buy-in is usually only 5.50 US dollars. For this, the prize pool is usually also limited to a few thousand US dollars. At the "main event", however, 20,000 US dollars can also be won here.
Conclusion
This year's partypoker World Cup is not only something special for amateur poker players. The organizer also emphasizes that it is incredibly exciting for them to offer the first fully online version of the tournament series. It will be interesting to see whether the participants and the organizers will draw a positive conclusion in the end. If so, the World Amateur Poker Championship (WCOAP) could perhaps take place permanently online in the coming years. Tournaments of this type have been popular in recent years, primarily because of their player-friendly starting stacks and low buy-ins.