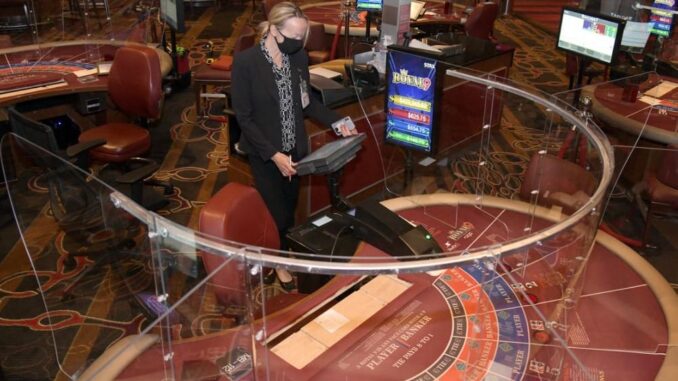 For this reason, many well-known gaming providers decided not only to remove live games, but also all table and card games from the game portfolio. But in the future, live casino games such as roulette, blackjack or baccarat could possibly return to the German-speaking online game libraries. But there is probably still a long way to go before then. The new GlüStV differentiates between virtual slot machine games, online poker and online casino games. While the legislature wants to allow classic slot machines, table games with bankers are to be completely banned for the time being. Many online game libraries have therefore informed their players that with immediate effect no more table, card or live games will be available. But with a bit of luck, this type of game could soon be offered again legally, so that live casinos in Germany could also have a future.
German licensing procedure for table games
Online gambling has been subject to a new legal framework since October 15, 2020. Several months ago we reported on the shadows cast by the State Treaty on Gaming and the transitional regulation. Among other things, it stipulates that so-called online casino games should not be allowed in Germany for the time being. The focus should therefore be placed solely on the virtual slot machine games, which are to be completely legalized under strict player protection measures.
But it is already becoming apparent that this is probably not yet a final solution. A look at the new State Treaty on Gambling reveals that the individual federal states will be able to develop their own licensing procedures for table and card games in the future. Specifically, it says in Section 22c Paragraph 1 No. 1 GlüStV:
"The countries can use online casino games for their territory on a legal basis
Organize (…) yourself or
Grant a maximum of as many licenses as there were licenses for casinos (…) as of January 17, 2020 ".
This means that in the future every federal state will theoretically be able to grant as many online concessions for online casino games such as roulette or blackjack as there are land-based casinos. It remains to be seen whether and to what extent this option will be used.
The licensing process will most likely not only apply to electronic table games but also to live casino titles. This means that live casinos in Germany could still have a future. However, it is to be expected that the development of a licensing process will take some time. In theory, several federal states can join forces and develop a common system, but this would require political agreements. That too could take some time.
Ban on live games controversial
The fact that a separate licensing process is to be developed for card and live games is highly controversial. Many cannot understand why live games have to remain deactivated, at least for the time being, since in the land-based casino it is precisely these games that can be played without comparable player protection measures.
It also remains questionable whether every federal state will actually use the opportunity to reopen the market for "real" online casino games in Germany. There is currently no obligation to do so. In addition, in the new GlüStV, the legislator points out the "particular danger" of online casino games. It is precisely for this reason that it is also planned that this type of game may only be offered by "organizers with a permit according to § 22c GlüStV" (see above).
Live casinos return – but when?
At the moment it is not yet possible to estimate when table games such as blackjack, roulette or baccarat will again be allowed to be offered by online gaming libraries. It is currently not even clear whether the State Treaty on Gambling can even come into force as planned in the summer of this year. Only a few days ago we reported that the SPD parliamentary group in Saxony-Anhalt could still tip the GlüStV.
Should the GlüStV actually come into force in the summer, the federal states will probably need at least several more months to be able to develop a functioning licensing procedure. Therefore, a return of the live casinos in the German online game libraries is to be expected even more this year.
Card games only with strict rules
However, should it happen that live games may be offered again in the future, players must take the strict player protection measures into account. These may then also apply to live games and other card games. As a consequence, roulette or blackjack fans could "only" deposit a maximum of 1,000 euros per month. In addition, a betting limit of one euro would in all probability also apply to the live games. In addition, there must be a "panic button" so that the player can log off at any time and have it temporarily blocked.
Jackpot slots have also been banned since the transitional regulation came into force in October 2020. According to the new GlüStV, they should stay that way in the future. This means that jackpot winnings worth millions should be a thing of the past, at least for players from Germany.
Conclusion
Friends of the popular live games do not have to give up hope that they can play roulette, blackjack or baccarat in online gaming libraries, for example. However, they should still allow the responsible authorities a little time before the State Treaty on Gambling has been ratified. Then a start can be made on developing a country-based licensing process for card, table and live games. Of course, players should keep in mind that the same strict player protection measures would apply to card games as to virtual slot machine games. Gambling fans can still look forward to the actual development in the coming weeks and months.