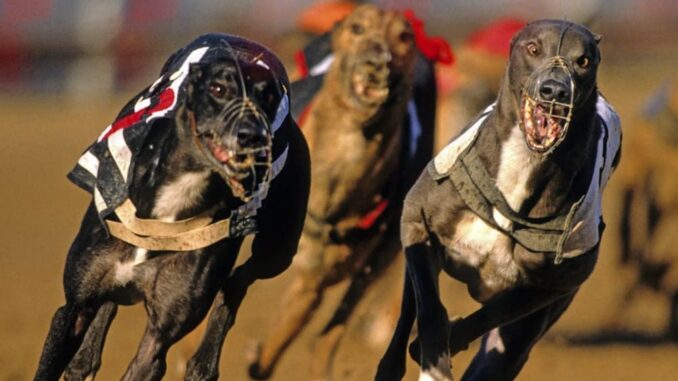 Greyhound racing as we know it today is not a British invention, but was shaped by the American Owen P. Smith. His patent for the mechanical dummy rabbit dates back to 1910. Nevertheless, dog races in England look back on a very long history. Even in the days of Bible translations, dogs with slender bodies and long legs, the greyhounds, which are considered to be the fastest breed of dog, were known.
At the beginning of the 16th century, "coursing" was particularly popular in England. This sport was about two greyhounds racing against each other with the aim of catching a hare. Queen Elizabeth I was also taken with coursing. That is why greyhound racing is often referred to as the "sport of queens".
£ 1 million donation already available
Even today, greyhound races are still extremely popular in England. Now even British gambling companies want to campaign for the animals of this sport.
According to the Betting and Gaming Council, a whopping one million British pounds in donations has already been raised for the good cause of animal welfare. The idea behind this promotion is that BCG members who also offer greyhound bets in their portfolio both online and in land-based betting shops are showing their contribution to the fund.
The donations should then be used to secure the BGRF for any charity and integrity projects for greyhounds. The well-being of the greyhounds is to be drastically improved with the funds of the BGC members. That makes perfect sense, as the companies also benefit enormously from the income from greyhound races. Now, in practice, they are also called upon to stand up for the animals and, for example, ensure their well-earned retirement when they have reached the end of their racing career.
A well-deserved retirement should be guaranteed
There is the so-called Greyhound Retirement Scheme, which is responsible for ensuring that the animals are accepted into homing organizations and then passed on to their new home in the next step. Care is also taken to ensure that animals that are already retired are not referred to countries that do not have verified animal welfare standards.
According to reports from the animal welfare organization CAGED, there have been several cases of greyhound transports to Pakistan under appalling circumstances. The animals could not spend a peaceful retirement there, but were used for unauthorized dog races or wild boar fights. British trainers who arranged for the animals to be shipped to Pakistan are believed to have collected around £ 2,000 for this illegal activity.
Greyhound races in Germany and the USA
A nationwide closure of all dog tracks in the US is under discussion, which could mean a complete end to all types of dog races. Dog races are already banned in 40 US states.
If you love gambling and online casinos in particular, then choose an online casino in your country

Note
It wasn't until the beginning of the year that there was another step in this direction when the prohibition of dog racing was introduced in the US state of Florida. This was a consequence of a vote two years ago in which voters decided against the event of racing. The last race took place on December 31, 2020 at the Palm Beach Kennen Club.
Dog doping and the keeping of animals are particularly criticized by US animal rights activists. The greyhounds are often locked in tiny spaces in kennels or cages, sometimes with tightly laced muzzles. In some cases, greyhounds that were no longer able to race due to injuries or due to old age were sold to animal testing laboratories or killed.
In Germany there are also greyhound races, but not only with greyhounds. Usually these races only take place as a hobby sport. Unlike dog racing in the US, placing bets on dog racing is made illegal by betting and animal welfare laws. There are currently 25 dog racing facilities in Germany.