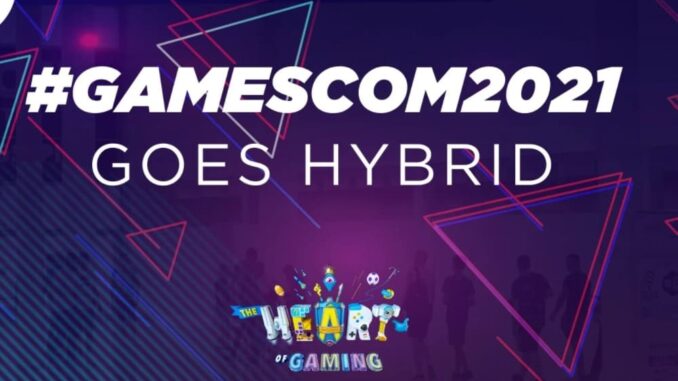 After more than 370,000 visitors flocked to Gamescom in Cologne in 2019, the exhibition halls remained empty a year later due to the corona pandemic. As a current press release shows, a "hybrid event with on-site and digital elements" is planned for this year. But can a major event even take place this year or is the project of those responsible for the fair irresponsible?
"Entertainment Area" with a reduced number of visitors
Last year, Gamescom was held entirely as a digital event. There was a lot of encouragement, but also quite a few critical voices. In addition, some exhibitors canceled because they did not see an acceptable alternative in the digital event. For this reason, a hybrid event is planned this year, which will include both digital elements and an on-site program.
A survey of the Gamescom community has shown that for 76% of those surveyed, trying out new games is simply best at Gamescom on site. In addition, 88% of those questioned would feel safe on site at the trade fair with a good hygiene or protection concept.
The recently published press release states that the company intends to offer an "entertainment area specially designed for gaming super fans for a reduced number of visitors" in order to enable new game titles to be tried out live. In addition, the plans envisage that the "Business Area" will be expanded by a further area (Hall 11). In doing so, those responsible are pursuing the goal of addressing as many trade visitors as possible this year.
The co-organizer of Gamescom and managing director of the game-Verband der deutschen Games-Branche e. V., Felix Falk, comments on the project as follows:
"With Gamescom, we want to finally make an on-site event possible for gaming fans in late summer. This year we are focusing on the super fans and trying out the latest games on site. At the same time, Gamescom will again reach millions of people worldwide in 2021 thanks to the enhanced digital offering. "
Visitor safety is a top priority
Of course, the organizers of Gamescom are aware of their responsibility. For this reason, only a few visitors are allowed to enter the on-site entertainment area. In addition, strict health protection measures will apply in the event rooms. Among other things, tickets will only be available online this year. In this way, seamless contact tracing in the event of possible infections should also be guaranteed. The "# B-SAGE4business" concept was developed especially for the event.
Overall, the Gamescom organizers are of course interested in making it possible for game fans to have a safe visit. Therefore, of course, the requirements of the Corona Protection Ordinance of the State of North Rhine-Westphalia are implemented seamlessly and without compromise. However, this also means that the on-site events will be canceled accordingly if the infection situation requires this at the time of the event. It remains to be seen whether the hybrid event can take place as planned at the end of August this year.
Gamescom has been taking place in its current form in Cologne since 2009. Most recently in 2019 there were around 373,000 visitors and more than 1,150 exhibitors from all over the world. The exhibition area was almost 218,000 square meters. In terms of exhibition space and visitor numbers, it is the world's largest trade fair for computer and video games. The fair is jointly organized by the game Association of the German Games Industry. V. and organized by Koelnmesse.
Conclusion
The idea of ​​a hybrid event is not new, but in the current situation there is at least a chance to host larger trade fairs. Whether or not Gamescom can take place this year from August 25 to 29, 2021 with an on-site program is still questionable at the moment. The fact is that many visitors cannot imagine another purely digital trade fair this year. Many exhibitors are also skeptical about a purely digital event. So it will be interesting to see how this year's Gamescom will take place.