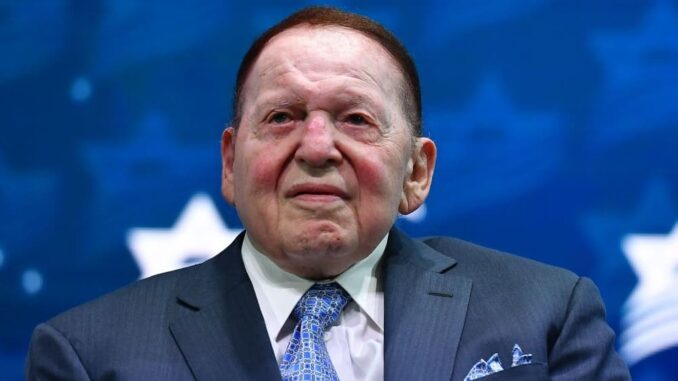 After it became known a few days ago that there were complications from the treatment of Adelson's non-Hodgkin lymphoma, a type of lymph gland cancer, he has now lost the long battle against the disease. Adelson had retired from operational activities as CEO of Las Vegas Sands just last week to undergo more treatment.
Adelson died Monday night at his Malibu, California property. He is to be buried in the country of birth of his wife Miriam Adelson, in Israel. During his lifetime Adelson maintained economic relations with Israel and also ran charities there. Among other things, he founded the free newspaper Israel HaYom (German: Israel Today) in 2007, which became the most widely read newspaper in Israel within three years.
Son of immigrants, business tycoon and political supporter
The casino mogul, best known for his achievements in the US gambling industry, worked his way up as the son of Jewish immigrants from Russia to one of the most influential casino businessmen with his sense of entrepreneurship. As the son of a taxi driver from Boston, Adelson's personal fortune was last estimated at around 33 billion US dollars.
It all began in 1995, when Adelson laid the foundation for his continued wealth by selling the COMDEX computer fair, which he founded, for a whopping 800 million US dollars to the Japanese investment company Softbanken. The profit was later invested in other casino projects in Las Vegas and Macau.
Inspired by the gondolas in Venice during his honeymoon, he came up with the idea of ​​building a hotel resort with Venetian flair: the luxury hotel Venetian Resort Hotel was built in the same year of the trip. The Sands Macao and the Venetian Macao-Resort-Hotel as well as the Marina Bay Sands Hotel in Singapore are among his activities in the Asian region.
But Adelson was also very active politically. He was considered an important financier of the Republican Party and a great supporter of Donald Trump and his election campaign in 2020.
Generous to his employees
The economic impact of COVID-19 didn't stop at Adelson's company either. But even in these tough times, with many casinos closing in the spring of 2020, Adelson showed his solidarity with his thousands of Las Vegas Sands employees and continued to pay them their full salaries.
A memorial service for Sheldon Adelson in Las Vegas is planned.