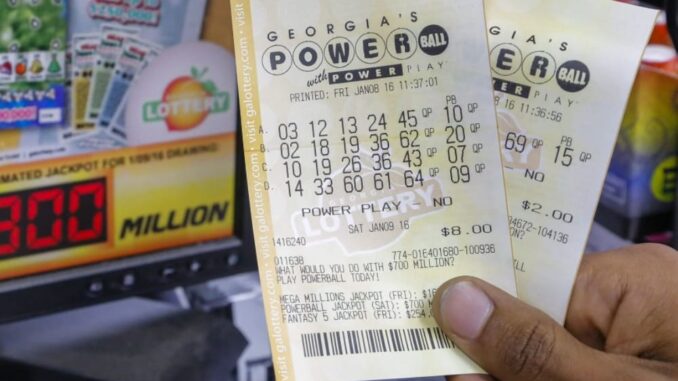 The successful 43-year-old real estate consultant is on trial in the USA these days and has to answer for his actions. According to the indictment, the man is said to have cheated investors out of millions to finance his runaway addiction to the lottery. He was firmly convinced that he knew a way how to crack the big lottery jackpot. Unfortunately, his fraudulently obtained millions didn't help either – he still didn't win the jackpot.
$ 1 million per week for lottery tickets
While most lottery players usually only wager a few euros a week in the lottery, the 43-year-old defendant obviously wanted to go higher. He spent up to a million US dollars a week buying lottery tickets. However, his balance sheet was not impressive: Even after spending several million US dollars on lottery tickets, he still had not hit the big jackpot.
As early as 2020, the defendant Viktor G. started as a successful real estate consultant to buy a number of Michigan State Lottery tickets. Over a longer period of time, his focus was on the "Daily 3" and "Daily 4" draws. In the years that followed, he steadily increased his lottery stakes and at some point lost control of his gambling behavior. From 2017 onwards it was no longer possible for the defendant to finance his "lottery addiction" with his own money.
The Michigan State Lottery is a very popular lottery with multiple drawings every day. The main prize is between $ 500 and $ 5,000, depending on the type of drawing. Even US $ 0.50 is sometimes enough to buy a ticket.
Real estate projects invented to raise millions more
The real estate expert then started to convince his wealthy business partners of seemingly attractive real estate projects. In total, there have been at least 24 injured parties over the course of time who have transferred larger sums to the defendant. The total damage by summer 2019 added up to the equivalent of around 22 million euros. While investors thought they had invested in real estate projects, Viktor G. used the money instead to finance his incredible "lottery addiction".
In some cases, the defendant actually won smaller amounts in the Michigan State Lottery. He then paid these amounts to his investors in order to be able to continue his illegal business model over a longer period of time. The example of a British man who squandered a total of 15 million euros within a short period of time shows that even a million jackpot does not save you from bad luck.
Up to 20 years in prison
So far, no lawsuit has started against the ex-real estate consultant. It is currently assumed that the defendant will plead guilty based on the clear evidence. If convicted, the man faces up to 20 years in prison.
The indictment states that the man assumed he knew the guaranteed way to win a lottery. He was therefore of the firm view that he would soon have several large profits with which he could have made repayments to the creditors. After his "strategy" still didn't work after a while, he began to massively increase his stakes – and lost a lot more money in this way.
Conclusion
The present case shows that gambling addiction can also be a serious problem with lotteries. The now accused ex-real estate consultant has spent up to one million US dollars a week on lottery tickets for the Michigan State Lottery, thereby cheating several investors out of tens of millions of US dollars. The defendant thought that sooner or later he would definitely hit the jackpot with his naive "strategy". Now the "lottery fan" in the USA faces up to 20 years imprisonment. The aggrieved investors will probably never see their money again.