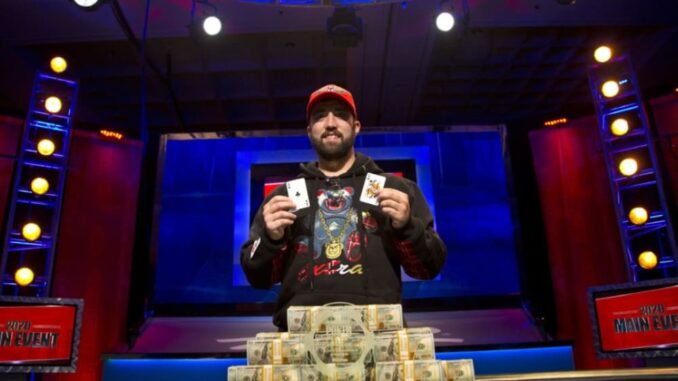 There was a bit of excitement around the final table of the WSOP because things didn't go as planned: Upeshka De Silva unfortunately tested positive for the SARS-COV-2 virus and only a few hours before the start of the final table from the competition locked out. As a result of this disqualification, De Silvia had to be satisfied with a minimum payout of 98,313 US dollars.
With a little delay and a total of only eight poker players at the table and Joseph Hebert as the chip leader, the game could be started at the final table, which Hebert was able to determine for himself and won with a proud prize money of 1,553,256 US dollars.
After just six hands, Gershon Distenfeld had to leave the table. He had lost his all-in to Ron Jenkins. Distenfeld's goal is to donate all of his US $ 125,885 prize money to charity. Ryan Hagerty also lost to Jenkins later in the game. Third place was taken by Michael Cannon. Ron Jenkins won second place.
Hebert played for his late mother
On January 3, 2021, Hebert, who secured victory with an ace on the flop, heads up against Salas. This victory has a special emotional meaning for Hebert, because the poker professional announced before the game that he would play the tournament for his mother Linda, who died a few months ago of a pulmonary embolism.
Incidentally, the WSOP sponsors the US $ 1,000,000 prize for the final winner. The famous bracelet and the 2020 world championship title naturally go hand in hand with the victory. It is good to know that the heads-up is recorded by the sports channel ESPN.