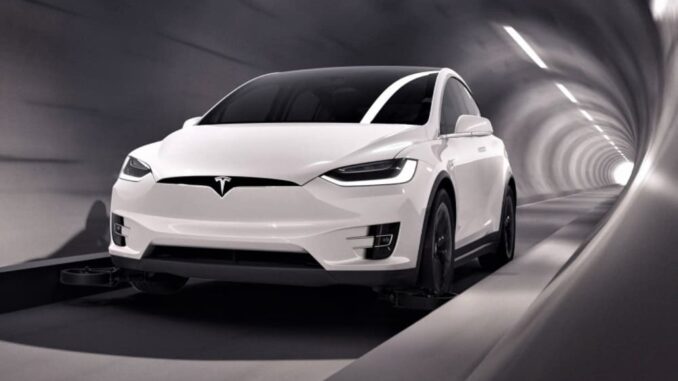 On Friday, Musks gave The Boring Company a video post on Twitter with a small glimpse into the tunnel area in front of the Encore Hotel, in which 3 Tesla vehicles can be seen in a colorfully illuminated section of the tunnel.
The Boring Company was founded in 2016 by Elon Musk and focuses on tunneling. Musk's idea for founding the company was the enormous traffic in Los Angeles. With the construction of tunnels and the underground relocation of transport, the traffic load in urban areas could be reduced enormously.
The idea of ​​an innovative underground transport system was born: Using platforms on which the vehicles have to be placed, they are lowered into the underground, similar to an elevator, and finally placed in traffic in a tunnel. The platforms are controlled automatically and can reach a speed of up to 200 km / h and also get out of tunnel traffic. The elevator takes you back to the surface and you can continue driving as usual in normal traffic.
Tesla models in the tunnel
In March 2019 it was announced that an underground transportation system would also be built in Las Vegas. In December, The Boring Company received approval to extend the Las Vegas tunnel to the Encore Hotel. And that's exactly where a luxury train station is to be built. This should make it possible to drive through an underground tunnel transport, the so-called "Las Vegas Convention Center Loop". In the tunnel, Tesla vehicles are clearly provided for locomotion. More precisely, the models X and 3.
Due to security measures, it will probably not be possible to transport 1,200 people per hour through the tunnel as originally planned, but only 800. The technology does not play a factor here, but fire protection measures.
The tunnel leads from the intersection of Paradise Road / East Desert Inn Road under the golf course of the Wynn Hotel to the Encore Hotel and starts from the Las Vegas Convention Center, where important trade shows are often held and transportation is required. The Las Vegas tunnel will probably not be available to the general public as a means of public transport, but specifically only for guests at the trade fairs.
In the future it is also planned to make all known sights in Las Vegas accessible via tunnels. The completion of the "Las Vegas Convention Center Loop" including surface stations is expected at the end of January 2021.