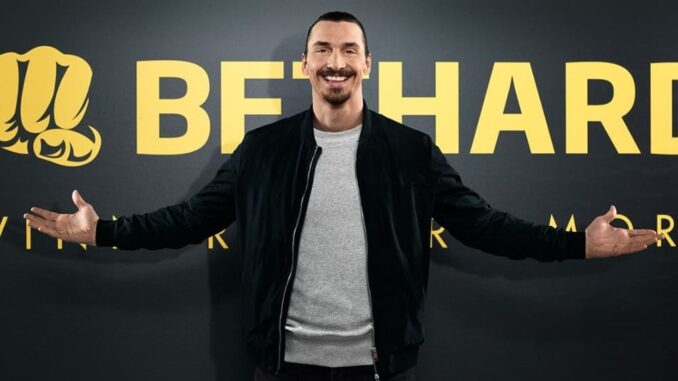 Zlatan Ibrahimovic, who was born in Malmö and is now 39, is not only a successful football player, but also an ambitious entrepreneur. He holds a stake in the Maltese betting company Bethard through his company Unkown AB. More precisely, Ibrahimovic should hold ten percent of the Bethard shares. The exceptional talent from Sweden is now threatened with a multi-year suspension. Due to the advanced age of the professional athlete, this could mean the end of his career.
UEFA and FIFA prohibit such participation
As is well known, such company participations are strictly forbidden under the regulations of UEFA and FIFA. This means, among other things, that an active professional footballer may under no circumstances be involved in a betting provider. The 39-year-old Swedish international Ibrahimovic was obviously not aware of this rule – or it didn't matter. In any case, he is accused of having a ten percent stake in the betting company Bethard through his company, Unkown AB. This was reported a few days ago by the British newspaper Daily Mail, citing the Swedish newspaper Aftonbladet.
The Bethard Group is a licensed gaming provider based on the southern European island of Malta. In addition to sports betting and live betting, slot machine games are currently also offered on the online platform. Zlatan Ibrahimovic has been the prominent advertising face of the provider for a long time. Most recently, Bethard generated a profit of 30 million euros after taxes in 2019.
Ibrahimovic: There is a threat of a game suspension and a large fine
If the accusation turns out to be correct, the exceptional talent from Sweden faces a six-figure fine and a three-year suspension. Since Ibrahimovic is already comparatively old as a professional footballer at the age of 39, a three-year ban would undoubtedly mean his career end. It was only last March that the Swedish striker made a comeback in the national team. Here Ibrahimovic could look forward to a 1-0 win against Georgia. Since Bethard also offered bets for this encounter, there was at least a certain aftertaste.
Zlatan Ibrahimovic is a 39-year-old Swedish professional footballer who has been under contract with AC Milan for the second time since January 2020. Ibrahimovic was voted Footballer of the Year in Sweden twelve times and has long been considered one of the best strikers in the world. He scored a total of 62 goals for the Swedish national team alone, making him the current record scorer. In the course of his career he played at Ajax Amsterdam, Juventus Turin, Inter Milan, FC Barcelona and Paris St. Germain, among others. Ibrahimovic is 1.95 m tall and was born in Malmö in 1981.
Bethard's involvement has been known for several years
While other professional talents have been quickly punished for similar offenses, Ibrahimovic seems to enjoy a certain special status. In any case, the head of the Swedish Football Association (SF), Hakan Sjöstrand, should have known since 2018 that Ibrahimovic is involved in Bethard. Rumors have it that Ibrahimovic was not nominated for the 2018 World Cup in Russia because of his Bethard involvement. So far, however, there seemed to be no further consequences.
Ibrahimovic was already defending his commitment to Bethard at that time. In the course of his career he was courted by a number of betting providers. But in the end only Bethard was able to convince him, because the company founders like him come from the Swedish town of Malmö and do a lot differently than the competition. Furthermore, he wanted to endeavor to adapt the FIFA regulations, which were not clearly formulated.
Meanwhile, the FIFA Code of Ethics points out that all persons who are subject to the Code may not participate, either directly or indirectly, in sports betting, games of chance (…). This pursues the important goal of preventing or making it more difficult to manipulate games and betting.
By the way, we reported several months ago that in Sweden only every 20th player recognizes a licensed online casino. This is the result of the Swedish gaming authority Spelinspätze.
Not a worthy exit as a top athlete?
Should FIFA actually hold the Swedish striker responsible for his Bethard stake, he could face a heavy fine and a three-year ban. In this case, Ibrahimovic's worthy departure from professional sport is likely to be at stake.
Conclusion
Due to the close business relationship with the betting company Bethard, the Swedish super sportsman could have violated the FIFA statutes. Therefore, the 39-year-old faces not only a six-figure fine, but also a multi-year suspension. So far, however, it is still unclear whether Ibrahimovic will be punished for his involvement in the Bethard gaming company. What is certain, however, is that Ibrahimovic's professional career would probably come to an end if the threatened three-year suspension were to come. Meanwhile, it is questionable why FIFA has not yet reached a decision. After all, Ibrahimovic's stake in Bethard seems to have been known since 2018.