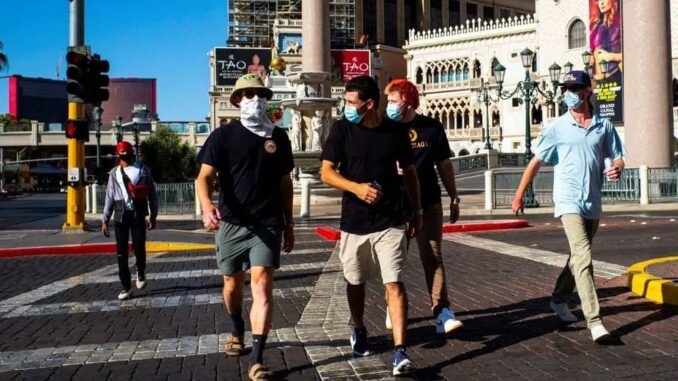 Las Vegas seems to be one of the pioneers again. We recently reported on the progressive action of the desert city of Las Vegas in terms of integrating the cryptocurrency Bitcoin. Bitcoin is currently attracting the attention of the entertainment industry in Las Vegas, and casinos such as The D Casino and Golden Gate Casino already had Bitcoin in their payment portfolio for some transactions. Today the Golden Gate Casino offers its guests to pay their bills with Bitcoin at so-called Bitcoin machines or to use the payment method virtually. In Las Vegas, the number of ATMs that can be used to exchange cryptocurrencies for cash is increasing enormously. There are already almost 150 such machines in the gambling city.
Now it is of course important to some hotels and casinos in Las Vegas to offer their guests improved security standards. And so some hotels and casinos in the gambling metropolis offer COVID-19 testing directly on site. That was confirmed by the Las Vegas Review-Journal. Companies currently offering such a service include the Cosmopolitan, California and Fremont Hotels, and MGM Resorts.
For the time being, MGM Resorts will only concentrate on telemedical advice, but will also offer a driver service that will take its guests to test locations.
Guests of the Cosmopolitan should be tested at its test location from June 4th.
Boyd Gaming (the California Hotel and Casino and the Fremont Hotel and Casino are part of Boyd Gaming) is also said to be offering COVID-19 tests to guests at Main Street Station. Boyd Gaming's plan is that guests staying at the California Hotel or the Fremont Hotel can take a test and avoid the quarantine period on their return. To this end, Boyd Gaming works with the Hawaiian Airlines, as the group mostly accommodates guests from Hawaii.
Las Vegas' economy tarnished
Las Vegas, whose economy has suffered decent losses from the COVID-19 pandemic, is now apparently having to watch again as more tourists can be brought into the city. The restrictions will also be eased somewhat in Las Vegas due to the decrease in COVID-19 cases in February. Among other things, it is now allowed to increase the capacity of restaurants, amusement arcades, fitness studios, race tracks and much more. m. to increase to 35 percent. It looks even better for zoos, museums, art galleries, etc. They are allowed to increase the capacity to 50%.
Due to strict travel regulations, tourist visits to Las Vegas have dropped tremendously. Trade fairs, which often take place in the desert city, have also been canceled. In 2020, Las Vegas had its lowest visitor count of only about 19 million guests since 1989. At that time it was around 18.1 million visitors.
The vaccination against COVID-19 has already started in the US state of Nevada, but of course there were still measures in place to contain the pandemic. It will probably be a while before Las Vegas regenerates itself economically.