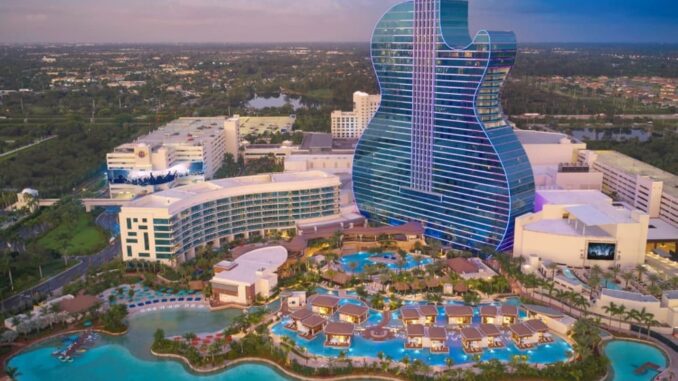 Sports betting is already legalized in Virginia. Law was signed in Virginia last year that allowed land-based casino and sports betting offerings to be introduced in the state. The Virginia Lottery Board has the task of regulating the market. Moving into a new casino in Virginia was not that easy: In addition to any commission reviews, it is also required that the residents of the communities must give their consent for a casino to open. More precisely, every authority has to hold a referendum to get a commitment from the residents.
Because of the generally rather poor economic situation in Virginia, it was to be assumed that the voters would also vote for the casino and sports betting expansion proposed by the legislature. And they did. The collaboration between Hard Rock International and Bristol Resort & Casino has been established and the creation of Hard Rock Hotels & Casinos in Bristol has been decided.
Virginia needs an economic boost
In November, US voters voted in favor of building casinos in Bristol, Danville, Portsmouth and Norfolk, among other places, in order to improve the economic situation. The background to this is that Bristol, for example, has lost around USD 2.5 million in sales since the shopping center, Bristol Mall, was closed in 2017. Southwest Virginia is one of the poorest parts of the state of Virginia and often has a high unemployment rate. But that should change now.
A total of 72% of the electorate in Bristol voted for the Hard Rock Hotel & Casino Resort. The economic boom is particularly welcome for 20% of Bristol residents who received salaries below the national poverty line in the past year.
Resort in the old mall
The old Bristol Mall is now being converted into a casino resort and, fortunately, this USD 400 million project is linked to the creation of over 1,000 jobs. The current projected revenue is around USD 130 million and is expected to boost regional tourism in the future. The project aims to bring over 4 million people to the Bristol area. The Bristol location will then be one of Hard Rock's 278 locations around the world.
With around 1,500 slot machines, 55 table games and a separate area for sports betting, spread over two floors, the resort should also make a good impression with its hotel: on an area of ​​50,000 square meters you will find a minimum of 300 rooms, a pool, and other event rooms , seven restaurants, four bars, and an outdoor area that can hold around 30,000 people.