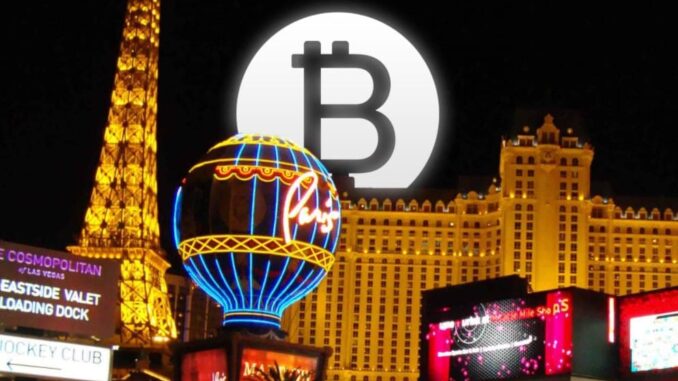 As a reminder, cryptocurrencies are nothing more than digital means of payment that are based on the technology of blockchains or other digital signatures, for example, and are considered to be particularly independent and secure. Well, opinions are divided on this. But more on that later in this article.
Bitcoin was the first and is probably still the most famous cryptocurrency that was publicly traded in 2009. Bitcoin still has a very large market share compared to other crypto currencies such as Ethereum, Ripple and Litecoin and therefore these are also referred to as "Altcoins", i.e. as an "alternative to Bitcoin", alongside Bitcoin.
We recently reported that the game manufacturer IGT had already received its patent to soon offer payments via cryptocurrencies. IGT is to use a system that allows cryptocurrencies to be transferred between customer accounts at the gaming provider and external cryptocurrency accounts.
No question about it, a decisive advantage of cryptocurrencies as a means of payment is the anonymity that comes with them. Personal information remains private and is therefore not even needed for the transaction. In addition to the incredible speed of transaction completion with crypto currencies, the extremely low payment fees that go with it are another plus of Bitcoin and Co.
The gaming industry wants to increasingly integrate cryptocurrencies
So far, cryptocurrencies have not yet counted among the common payment methods used by gambling operators. Nevertheless, cryptocurrencies are becoming more and more popular as a payment method on the Internet. The entertainment industry in the desert city of Las Vegas is becoming increasingly aware of Bitcoin. And there is a good reason for that: Bitcoin experienced an enormous price increase just a few days ago and the US $ 50,000 mark was exceeded. If this trend continues, the rising inflation rate and the 21 million coin limit of Bitcoin may soon reach 100,000 US dollars. This of course makes for euphoric headlines in various media, but you have to look at the whole thing with a little caution. Any regulations, such as mining bans, could have a negative impact on the development of Bitcoin. But that remains to be seen. However, it can be assumed that volatility will remain high.
A disadvantage of a completely different nature that Bitcoin brings with it is its gigantic power consumption. The creation of new crypto money, i.e. mining, is associated with an enormous amount of energy. Due to the current rise in the price of Bitcoin, mining and, as a result, electricity consumption increased. The highly complex computing processes required for mining consume enormous amounts of electricity. The Cambridge Center for Alternative Finance (CCAF) has determined that the value of Bitcoin electricity consumption is around 120 terawatt hours (TWh) in one year. That is more than the whole nation of the Netherlands consumes in one year. To put the whole thing in perspective: Germany's electricity consumption is around 524 terawatt hours per year and ranks sixth behind China, the USA, India, Japan and Russia. Another clear example for a better understanding of the enormous amount of electricity consumed by Bitcoin: The energy used for Bitcoin could supply Cambridge University with electricity for 662 years.
But now back to Las Vegas. Because there gambling companies like The D Casino and the Golden Gate Casino were the actual pioneers in terms of the acceptance of Bitcoin as a payment method. The internet currency Bitcoin could already be found in their payment method portfolio in 2014. You could not yet pay with Bitcoin in the actual casino, but in other areas of the hotel such as restaurants, bars, souvenir shops and reception.
The Golden Gate Casino has always been a technological pioneer and installed its first telephone in 1907. Today it offers its guests the option of paying their bills with Bitcoin at so-called Bitcoin machines or using the payment method virtually. In Las Vegas, the number of ATMs that can be used to exchange cryptocurrencies for cash is on the rise. In total, there are already almost 150 such machines in the gambling city.
The risk of volatility
The high volatility of Bitcoin is not only a reason for financial experts to be careful when handling the digital currency, but also a thorn in the side of some gambling providers. It could possibly take a while until one has come to terms with it or a certain desensitization towards volatility has developed. And that is why the final acceptance of Bitcoin as a gambling payment method could still be delayed somewhat.
Let's use a simple example to illustrate these concerns: Suppose a customer wagers one US dollar in the casino. The customer loses that dollar in the game. So the money goes to the casino. But the next day the value of Bitcoin drops (volatility). Suddenly the casino no longer has a dollar, but only $ 0.30. A few days later, the Bitcoin value rises again and is now, for example, 3 dollars.
Therefore, dealing with cryptocurrencies for casinos is a bit tricky. They have two options: either they exchange the digital currency immediately for US dollars, or they keep it and speculate on price gains.