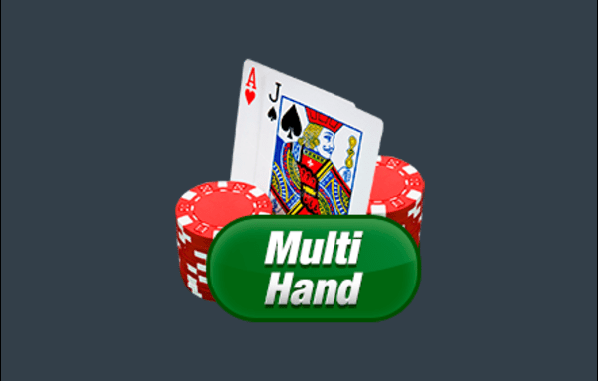 In principle there is no difference between standard blackjack and multi-hand blackjack. Both are based on the same basic principle. You have to get as close to 21 as possible to beat the dealer or the computer without going over it. How exactly you play VIP Multihand Blackjack, what you have to pay attention to and what your chances of winning are like, you can read in my following review.
Play VIP Multihand Blackjack for free or foe real
Blackjack is one of the most popular online casino games and has been providing excitement and fun for players in land-based casinos for ages. But you don't have to do without it online either, because there is a huge range of blackjack online games that you can play for free and often without registration. You can also play VIP Multihand Blackjack for free to familiarize yourself with the gameplay and rules of the game. The advantage is that you do not run any financial risk of your own when playing for free. At the same time, the free game allows you to better assess your risk and test some game strategies.
If you are of the opinion that VIP Multihand Blackjack is just normal blackjack, the rules of which everyone learns in their sleep, then you are not entirely wrong. However, it is advisable to use the opportunity to play without your own financial risk, because the game with multiple hands requires a little more concentration, because in this game you can play up to seven hands at the same time.
Where to Play VIP Multihand
By playing VIP Multihand for free, you can quickly improve your knowledge and "feel" for the game. Blackjack is generally a game in which you don't just start playing, but you have to learn the strategy and only when it fits, then you can further reduce the house edge and then make winnings at VIP Multihand Blackjack for real money.
Playing VIP Multihand online should be fun and not frustrate you. But if you do not use the opportunity to play the VIP Multihand Blackjack for free, then you can be sure that there will be losses in real money games. In addition, one more thing should be said: It's not about learning moves by heart, but you have to understand the game and be able to analyze the other hands you are playing. You can compare this to the game of poker, only that it is faster and you therefore have to master the rules intuitively.
Blackjack VIP Multihand: Understanding the Object of the Game
A distinction must be made between the individual Multihand Blackjack versions. The main difference lies in the amount of the stakes. This variant is mainly offered in high roller online casinos. While some versions allow you to play with € 0.10, the minimum bet is € 25. This blackjack variant is therefore not exactly beginner-friendly, because there is a minimum bet of € 150 on all six hands that you can play. This already explains the addition "VIP".
As far as the rules are concerned, the aim of the game, like all other standard blackjack variants, is simple: It is played with one or more decks of 52 cards. The dealer or the random number generator deals two cards per hand. You can then see the number of points you have reached above the cards and decide whether you are "holding" your hand, ie not taking any more cards or need another one. It is important that you do not get over 21 points, because then your hand "busts". And you lose your stake. In order to develop a feeling for whether it is worth taking a card or whether it is better to hold your hand, the VIP Multihand Blackjack play for free is ideal.
Details
| | |
| --- | --- |
| RTP | 99,65% |
| Blackjack pays | 3/2 |
| Decks | 6 |
| Multi-Hand | Yes |
| Insurance | Yes |
| Surrender | Yes |
| Split | Yes |
| Re-Split | No |
| Hit Split Aces | No |
| Double | Yes |
| Double After Split | No |
| Dealer Peek | Yes |
| Dealer Hits Soft 17 | Yes |
| Side bets | No |
I already mentioned that the stakes in VIP Multihand Blackjack online play are quite high. You can play up to seven hands here and each hand requires a minimum bet of € 25. This variant of blackjack pays 3: 2 and the dealer must stand on 17 or draw up to 16 more cards. You, on the other hand, are free to decide whether to draw a card or leave your hand that way.
In my test I was able to make the experience that the blackjack rules are the same here, but the course of the game requires a lot more concentration. Simply playing a game on the side is not possible, unless you are playing for free and therefore without your own risk. As far as the RTP is concerned, it is enormous: 99.65% of the players' total stakes are paid out as winnings. This blackjack variant therefore has extremely high chances of winning.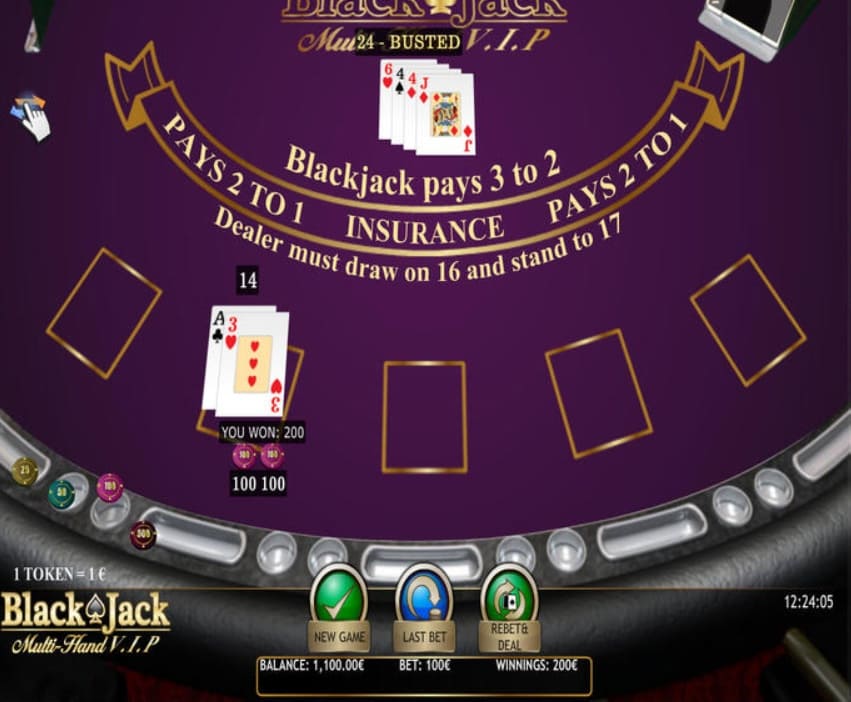 Play for real money – a game with high odds
When you play VIP Multihand online Blackjack, you can play up to seven hands at once. This gives you the chance to win more in every round of the game. You play every single hand individually and you can, if you wish, double your stake or split the cards. This blackjack variant is especially suitable for experienced players who play with higher stakes in High Roller Casinos. If you want to play . VIP Multihand Blackjack for real money, you should definitely only do so in a reputable and trustworthy online casinos.
To make the game worthwhile in the end, you can take advantage of a bonus offer. In addition, make sure that it is a VIP Multihand Bonus. If you are one of the high rollers, blackjack with no table limit is certainly interesting. Here's a blackjack tip at the end: Playing VIP Multihand Blackjack for free is the ideal way to get started, because you can test this seemingly simple game without your own risk. You can also play blackjack in mobile casinos, for which the providers offer corresponding apps. But no matter where and how you play: The main focus should always be on fun and enjoyment. It is definitely a game where you benefit from short-lived, no-nonsense and addicting gameplay.