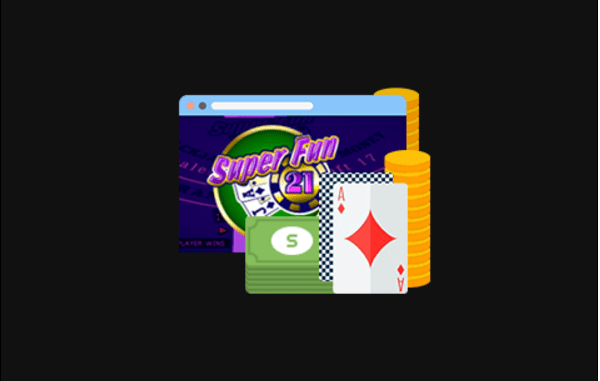 Super Fun 21 Blackjack is a variant of the classic casino card game invented (and patented) in Las Vegas. The game is played with a deck of cards and the biggest difference to the standard rules is that the player wins a six-card hand immediately if he has not overbought. Otherwise, many of the rules of the normal variant are slightly changed to minimize the house edge. But the payouts are also lower.
Super Fun 21 Blackjack Casinos
Here you can play Super Fun 21 Blackjack for free
While the game discussed here is not overly complicated, I still recommend playing Super Fun 21 Blackjack for free before wagering any money in a casino. Because the rule variations change the course of the game a little. Read carefully the special features of the game and try to make a few bets with play money.
When you have played a few rounds for free and your credit is used up, simply restart the game. Your account is then reset and you can continue playing. Since a restart is unfortunately not enough in real life to replenish your account, I recommend that you practice a little more. But if you feel ready to really get started, I'll tell you in which casino you can best play Super Fun 21 Blackjack for real money.
The special features of the popular blackjack variant
As already mentioned, there is a special rule in Super Fun 21 Blackjack: six cards that have 20 points or less win immediately. This also applies to five cards with 21 points. Both are even paid 2: 1. All other winnings are paid out 1: 1. Otherwise the game follows the basic rules, which have been changed slightly.
So you can double up at any time, even after you've already shared your cards. You can do this up to three times, making up to four hands in total. The same goes for aces. You can also split them and then double or draw more cards. You can also give up your hand at any time. Even after you've doubled down, you can throw away your hand and get back half of the stake you made up to that point.
Details
| | |
| --- | --- |
| RTP | 99.22% |
| Blackjack pays | 1:1 |
| Decks | 6 |
| Multi-Hand | No |
| Insurance | Yes |
| Surrender | Yes |
| Split | Yes |
| Re-Split | Yes |
| Hit Split Aces | Yes |
| Double | Yes |
| Double After Split | Yes |
| Dealer Peek | Yes |
| Dealer Hits Soft 17 | Yes |
| Side bets | Yes |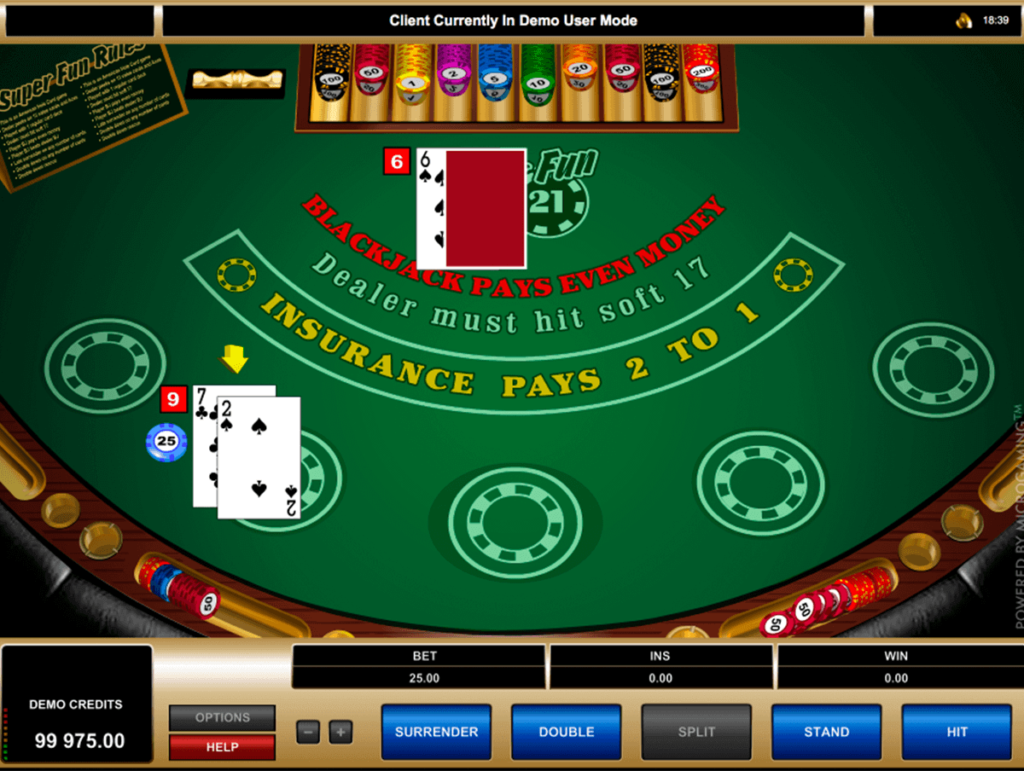 For the dealer, he does not have to stand on a soft 17 and does not draw any more cards. The dealer loses against a player's blackjack. In this case, the player gets even money, that is, he wins the amount that he has wagered. However, if the player has a blackjack in diamonds, he wins double his stake.
Play for real money Super Fun 21!
When you've internalized the not-too-complicated rules and played a few games for play money, you should be ready to make some real bets. In addition to this type of game, the provider below offers many other blackjack variants as well as a first-class live casino with many blackjack tables. If you want great blackjack bonus offers, just follow the link for many new customer offers.