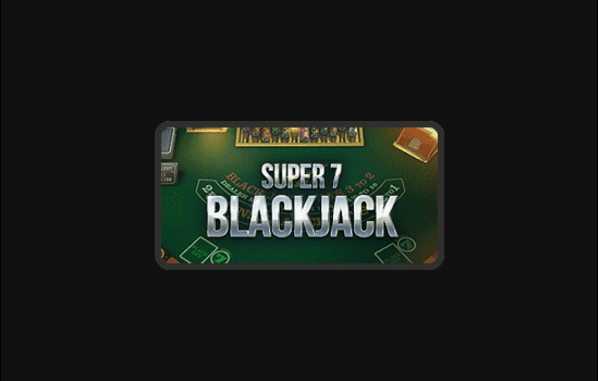 Basically, blackjack is a very simple game. But there are a lot of variants of it, where either the rules are slightly changed or special side bets provide additional thrills. The game Super 7's Multi-Hand Blackjack from iSoftBet is about a variation in which you can compete against the dealer with three hands.
Super 7's multi-hand Blackjack Casinos
Try Super 7's Multi-Hand Blackjack for free in the demo
In the variant tested here, you can play up to three hands against the dealer. The gaming table is very tidy. The most obvious difference to 3 Hand Blackjack is the extra betting field for the Super 7 side bet. The service immediately made sense to me, even absolute blackjack beginners should be able to find their way around quickly after a short orientation phase. If you want to get your own impression, you can do so here and try Super 7's multi-hand for free.
After you have carried out your very personal Super 7's multi-hand Blackjack test here, your interest may have been piqued and you are thinking of playing real money Blackjack Super 7's multi-hand online. But before that there is still a little theory. Let's take a look at the rules of the game together so that you are really optimally prepared!
The rules of the game briefly explained
The game is played with eight decks and follows the well-known blackjack rules. You play with up to three hands exclusively against the dealer. If you're closer to 21 points than him without overbought, you've won. With a blackjack, the payout takes place in the usual profit ratio of 3: 2. With a stake of € 10, you would in this case reap exactly € 15 as a profit. If the dealer's open card could result in blackjack, the insurance function is ready to help you insure yourself against this unfavorable event. If this happens, only half of your stake would be lost.
Otherwise, your options in the Super 7's multi-hand Blackjack rules are comparatively limited: You can still draw a card (hit) or do without it (stand). If you have two identical cards in hand, you can split your hand and continue playing with two hands. You also have the option of doubling the stake once (double) with a cheap hand. But then you are only allowed to pick up a single playing card. If you have the same number of points as the dealer at the end, there is a draw (push) and you get your stake back.
Details
| | |
| --- | --- |
| RTP | 99,59% |
| Blackjack pays | 3 to 2 |
| Decks | 8 |
| Multi-Hand | Yes |
| Insurance | Yes |
| Surrender | No |
| Split | Yes |
| Re-Split | No |
| Hit Split Aces | No |
| Double | Yes |
| Double After Split | No |
| Dealer Peek | No |
| Dealer Hits Soft 17 | No |
| Side bets | Super 7's |
Looking at the graphics, iSoftBet delivers a solid performance. In this respect, Super 7's multi-hand Blackjack can compete well with the table games of the big game manufacturers such as Microgaming or Playtech. The table, which is available in either blue or green, looks very classy to me and the sound also won me over. Here, the background noise of a land-based casino is simulated in a discreet way, which at least subtly enhances the game, at least in my ears. I also have absolutely nothing to complain about when it comes to operation, including some convenience functions. Overall, this results in a very smooth gaming experience. I have repeatedly found myself playing a lot longer than I originally intended.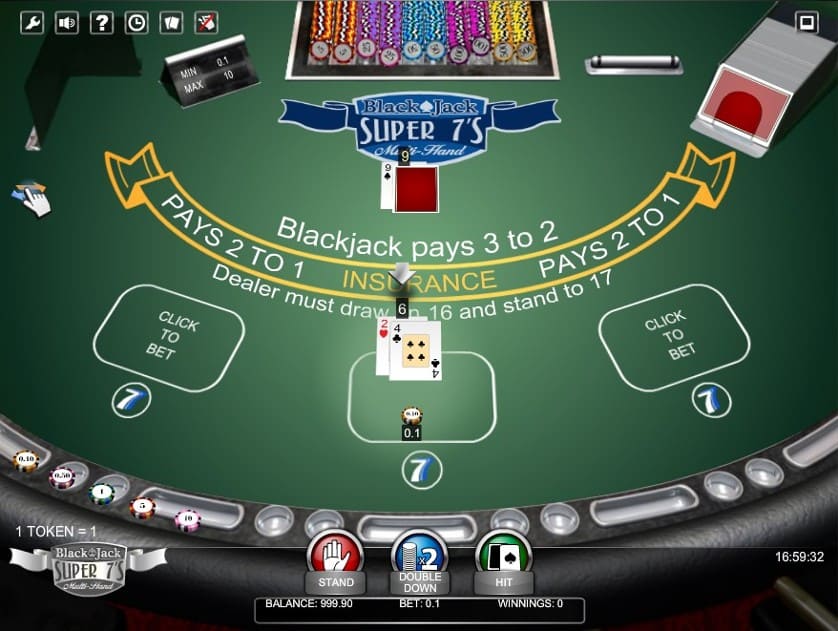 Contemporaries with a broad risk range will also certainly appreciate the Super 7 side bet, which I will explain in more detail in the following paragraph.
The Super 7 side bet
The optional Super 7 side bet is based entirely on playing cards with a card value of "7" and is completely independent of the outcome of the actual game. You can complete them before the dealer opens the game. If you have at least a "7" in hand during the game, you win the bet. The payouts vary between 3: 1 for a "7" and an incredible 5,000: 1 for three identical sevens cards (e.g. 7 of diamonds). While the RTP value in the main game is a very good 99.59%, it is only 90.99% in the side bet.
Play Super 7's multi-hand Blackjack online for real money
As you may have noticed, I really liked this title! The side bet is fun, but it is only recommended to a limited extent due to its comparatively low payout rate. Rational players stick to the regular variant! Try real money Blackjack Super 7's multi-hand in one of the Online Casinos with Highest ODDS. Here you can also expect a convincing welcome package that meets all the criteria for a suitable online blackjack bonus.