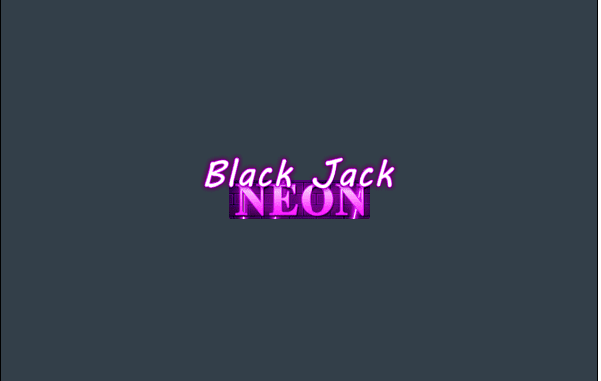 We'll now show you where you can play Neon Blackjack online and what you can expect from this variant. Neon Blackjack comes in two variants. Once as a single deck version and the other time as a classic version. I looked at the classic variants, which, in contrast to the single deck version, are played not only with one but with 5 hands. I'll show you what I've learned while playing the game of blackjack.
Play Neon Blackjack for free
You can play Neon Blackjack for free in many other online casinos. Even if, of course, only playing with real stakes brings real winnings, it is still good to be able to play the table game for free.
In the demo or fun mode of a game you have the chance to get to know all of its sides. Get to know the game mode in detail and try out a wide variety of moves that you probably wouldn't just dare to do in real money mode. As you play the game for free, you will gain important experience that will help you make real profits later.
In demo mode, the blackjack table works just like in real money mode, as our Neon Blackjack test has shown. So you can make use of all the features and betting options that are also available to you for stakes with real money. This is also important, because only then can the demo mode also be used meaningfully as a learning situation for later.
The only two decisive differences are that with the demo version you bet play money and cannot use a bonus. So your theoretical winnings are not payable. The fun mode is particularly useful for getting to know the gamble feature of the blackjack game better, because this is not standard at every blackjack table.
The most important rules of the game
According to the Neon Blackjack rules, the game is played with 8 standard decks and in multi-hand mode. In total you are playing with 5 hands against the dealer's one hand. This means you definitely have a lot of chances to win in every round, but you can also lose more money at the same time if things don't go so well. The many decks of cards also give the casino a greater house edge.
For each of the 5 hands you are dealt two cards. After the deal, you can double your stake regardless of the total card value. However, after doubling up, your hand will automatically be completed with another card. Splitting a hand is possible with two cards of the same value. Double can also be used after the split, except for split aces. There is no re-split.
There is no hit with split aces. Here your hand is then automatically completed with just one card. The gamble function is a special feature. The Neon Blackjack online game has an RTP of 99.54% and thus offers an excellent theoretical payout.
Details
| | |
| --- | --- |
| RTP | 99,54% |
| Blackjack pays | 3/2 |
| Decks | 8 |
| Multi-Hand | Yes |
| Insurance | Yes |
| Surrender | No |
| Split | Yes |
| Re-Split | No |
| Hit Split Aces | No |
| Double | Yes |
| Double After Split | Yes |
| Dealer Peek | Yes |
| Dealer Hits Soft 17 | No |
| Side bets | Yes |
If the dealer's up card is an ace or a 10, he'll look under his second down card and see if it's blackjack. With an ace up, you can take out insurance against the dealer's blackjack. The stake for the insurance is paid out 2: 1 if the dealer actually manages a blackjack.
The specialty of Neon Blackjack online from Fugaso is the gamble feature, which you can use after every win. You can choose to collect the winnings or take part in the card risk. Each time you decide whether a black or red card is drawn.
If you guess correctly on the gamble feature, your stake will be doubled. In total it is possible to double your winnings 5 ​​times. But you can also lose everything if you are wrong. So always think carefully about whether and how often you use the feature. Your chance is always 50:50 that you will make the right decision.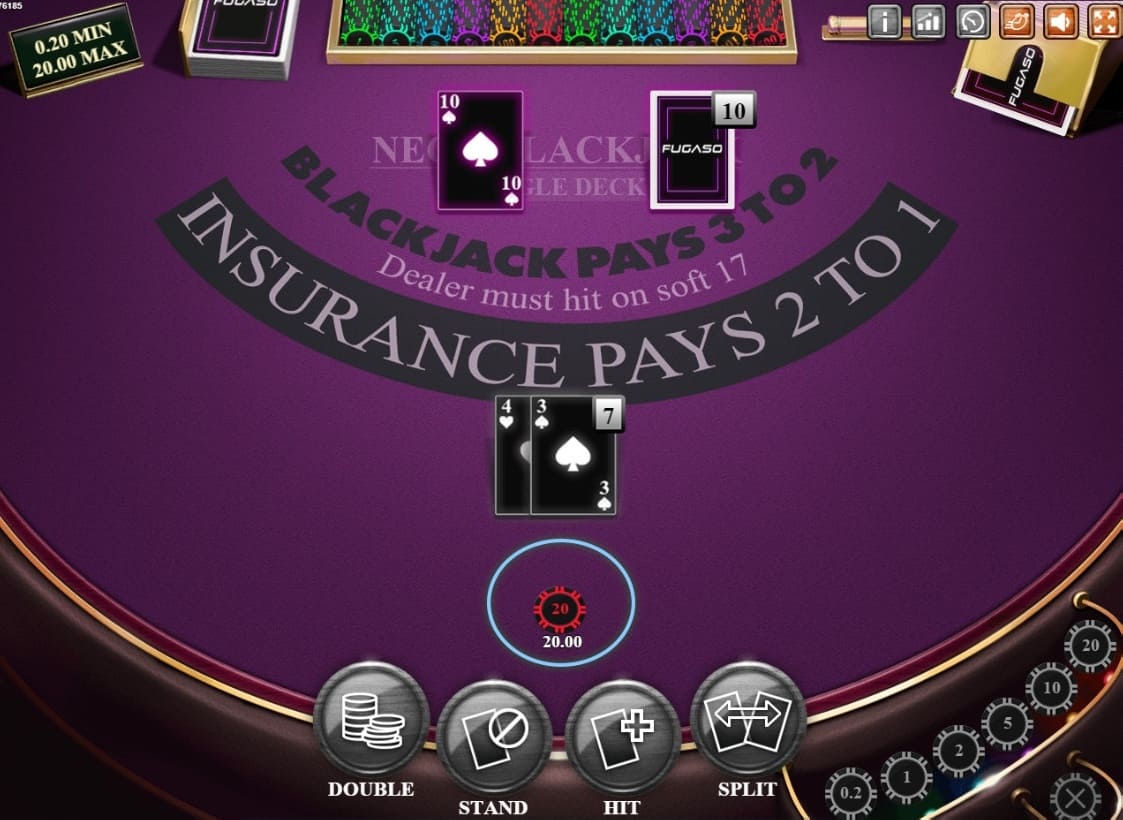 Play Neon Blackjack for real money – multi-hand blackjack with gamble feature
With Neon Blackjack from Fugaso you play at a modern gaming table. It owes its name to the brightly colored neon-colored chips that make the table look a little special. The possible uses are within a framework that is particularly suitable for hobby players. Neon Blackjack can be played for real money with a minimum of 0.20 and a maximum of 200 euros per hand.
With 5 hands per round, you secure yourself a good chance of winning against the one dealer's hand. The rule that the dealer must draw another card on a 16 and stand on 17 also suits you as a player. If you move another card at 16, there is a high risk that the dealer will bust. If the dealer stands on 17, however, the chances are good that one of your 5 hands is better.
If you are interested in the game of blackjack in general, you can find a lot of information online about its origins and history. It is always interesting to know how and when a game developed and how a number of game variants developed from it. The history of blackjack even dates back to the 18th century.
You can play Neon Blackjack at Reputable Online Casinos with real money stakes. If you're playing for real money, keep an eye out for a Neon Blackjack bonus at an online casino.